Vote for Boone and Crockett Club President Lowell Baier
Bethesda, Md –-(AmmoLand.com)- Boone and Crockett Club President Lowell E. Baier of Bethesda, Md., is among several stalwart big-game conservationists named to Outdoor Life's list of 25 people who've had the greatest positive impact on hunting, fishing and conservation.
As a way to thank Lowell for his outstanding work in conservation, please cast a vote for Lowell Baier as "Readers' Choice."
For four decades, Lowell has dedicated his life to wildlife conservation. He got his start by founding the National Capitol Area Chapter of Safari Club International and became one of the original founders of the Foundation for North American Wild Sheep.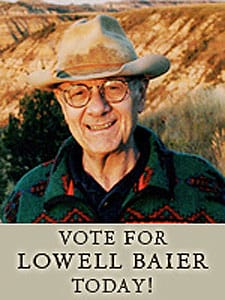 Most importantly, Lowell spearheaded an intensive effort to preserve Roosevelt's historic Elkhorn Ranch in North Dakota's badlands. The ranch is where Roosevelt crystallized his commitment to making conservation a national priority. In 2008, Lowell was honored as Budweiser's Conservationist of the Year for his efforts and he then directed the $50,000 prize back to the Elkhorn Ranch for wildlife habitat restoration projects.
Please take a few minutes to help a fellow sportsman by casting a vote for Lowell Baier for the Outdoor Life 25 "Readers' Choice." Please CLICK HERE to cast your vote for Lowell.
Thanks in advance for your support and time.
About the Boone and Crockett Club
Founded by Theodore Roosevelt in 1887, the Boone and Crockett Club promotes guardianship and visionary management of big game and associated wildlife in North America. The Club maintains the highest standards of fair-chase sportsmanship and habitat stewardship. Member accomplishments include protecting Yellowstone and establishing Glacier and Denali national parks, founding the National Forest Service, National Park Service and National Wildlife Refuge System, fostering the Pittman-Robertson and Lacey Acts, creating the Federal Duck Stamp program, and developing the cornerstones of modern game laws. The Boone and Crockett Club is headquartered in Missoula, Mont. For details, visit www.booneandcrockettclub.com .