Anti-Gun Obamacare On Life Support – Obamacare Needs One Final Stake Through Its Heart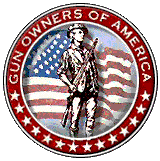 Massachusetts – -(AmmoLand.com)- Congratulations on a tremendous victory on Tuesday! And thank you all for your help in getting Scott Brown elected to the U.S. Senate in Massachusetts.
Gun Owners of America was the first national gun lobby to endorse Brown, and with your aid, he was receiving more than one million dollars a day in his comeback win over anti-gun Martha Coakley.
With your help, Massachusetts — the bluest of blue states — has sent a message to Washington: take your ObamaCare bill and shove it!
By a vote of 52% to 47%, Massachusetts voters sent anti-ObamaCare candidate Scott Brown to the Senate — defeating liberal icon Martha Coakley. And D.C. Democrats are beginning to understand that GOP victories in New Jersey and Massachusetts are merely a precursor to the electoral bloodbath still to come in November.
Obama-Pelosi still committed to passing socialized health care
But has the prospect of losing two hundred congressional seats caused Barack Obama and Nancy Pelosi to back off of their efforts to shove this bill down the throats of the American people?
Amazingly, no.
It"s like you stepped in something. And, as much as you scrape and scrape the bottom of your shoe, you just can"t get rid of the smell.
At first, Pelosi's strategy was to get the House to pass the Senate version of ObamaCare — verbatim — so that the bill goes straight to the Oval Office, without having to break another filibuster in the Senate (which no longer has a filibuster-proof majority).
Thankfully, there are SO MANY rank-and-file Democrats who have revolted against this strategy (Democrats who are scared to death of losing their seats) that Rep. Pelosi yesterday said the Senate bill is not viable… WITHOUT CHANGES.
"I don't see the votes for [the Senate bill] at this time," Pelosi said. But note the words "at this time."
Despite huge obstacles, Pelosi trying to resurrect ObamaCare
Pelosi did say there's a "foundation in that bill" they can work with. So Pelosi may just try to pass one big fix-up bill — using a "reconciliation" bill that will only need 51 votes when it goes to the Senate — or simply break up the Senate bill into smaller pieces and send those parts to the President.
But remember that the Senate health care bill which Pelosi now seeks to fix contains the following problems:
It will allow BATFE to troll a health/gun database in order to take away firearms from tens of millions of Americans;
It is jam-packed with billions of dollars of bribes paid to buy the votes of sleazy senators;
It will impose a host of new taxes, force Americans to buy expensive insurance which they can't afford, and increase insurance premiums in the individual market by 10 to 13%; and,
It will continue the bankrupting of our country by increasing the deficit by half a trillion dollars, when the underhanded accounting tricks are discounted.
You can be sure that most, if not all, of these problems will be left untouched.
ACTION: So please contact your Representative. Tell him or her to vote against the bribe-filled Senate ObamaCare bill, and that no amount of "fixing" will make this bill acceptable. The Senate already tried to fix the gun problems in the bill but failed miserably.
You can use the Gun Owners Legislative Action Center at https://www.gunowners.org/activism.htm to send a pre-written message to your Representative.
—– Pre-written letter —–

Dear Representative:

You are being urged by Nancy Pelosi to dive into the Senate's moral cesspool and pass its ObamaCare bill — either cut up in pieces or, as a whole, accompanied by a "fix up" reconciliation bill.

If you do this, the Massachusetts results are just the faintest of forebodings of the electoral bloodbath which will erupt in November.

The American people have made it clear they do not want Nancy Pelosi and Harry Reid to cram this bill down our throats. And yet, Pelosi delusionally concludes that the path to electoral success is to keep cramming and cramming and cramming and cramming.

In case you have forgotten, the Senate ObamaCare bill:

* Will allow BATFE to troll a health/gun database in order to take away firearms from tens of millions of Americans;

* Is jam-packed with billions of dollars of bribes paid to buy the votes of sleazy senators;

* Will impose a host of new taxes, force Americans to buy expensive insurance which they can't afford, and increase insurance premiums in the individual market by 10 to 13%; and,

* Will continue the bankrupting of our country by increasing the deficit by half a trillion dollars, when the accounting tricks are discounted.

Please tell me now that you oppose this bill and that no amount of "fix up" will make it acceptable. The Senate already tried to fix the gun problems in the bill but failed miserably. It's time to pull the plug on ObamaCare.

Sincerely,

——————————————————————————–
Gun Owners of America
8001 Forbes Place, Suite 102, Springfield, VA 22151
Phone: 703-321-8585 / FAX: 703-321-8408
https://www.gunowners.org
About:
Gun Owners of America (GOA) is a non-profit lobbying organization formed in 1975 to preserve and defend the Second Amendment rights of gun owners. GOA sees firearms ownership as a freedom issue. 'The only no comprise gun lobby in Washington' – Ron Paul