Browning X-Bolt Rifle Receives GunTest Magazines "Best in Class" Award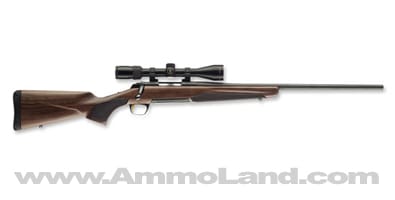 Morgan, Utah – -(AmmoLand.com)- In 2008, Browning introduced the award winning X-Bolt rifle, setting a new standard in the bolt action centerfire market. Building on the proven successes of past Browning rifles, the X-bolt quickly became the rifle to own among centerfire rifle enthusiasts.
For 2009, Browning proudly accepts the "Best in Class" award from "Gun Test" magazine.
GT's testing team summed it up by saying, "The Browning Medallion X-Bolt was a beautiful rifle that inspired confidence with each shot."
Features include:
Feather Trigger
X-Lock Scope Mounting System
Bolt Unlock Button
60° Bolt Lift
Inflex Recoil Pad
Rotary In-Line Feed Magazine
"We don't accept advertising," said GT Publisher Timothy H. Cole, "so consumers have confidence that our Best in Class picks are the results of head-to-head evaluations by our teams and the results aren't influenced by anything else."
For more information on the Browning X-Bolt, visit www.browning.com
For more information on Gun Test magazine, log onto www.gun-tests.com
For more information on all of Browning's innovative products, visit www.browning.com