Central Illinois Home to New Quail Forever Chapter
Central Illinois Bobwhites Chapter of Quail Forever holding inaugural banquet on Sat., March 6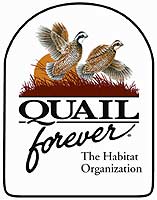 Sherman, Ill. – January 6, 2010 – Quail hunters and conservationists in central Illinois have formed the state's newest Quail Forever chapter. Known as the Central Illinois Bobwhites Chapter of Quail Forever, the chapter will focus on quail habitat restoration efforts in Menard and Sangamon Counties.
According to Lee Scott, an avid hunter from Athens, Illinois, and the chapter's president, the Central Illinois Bobwhites chapter is a necessary tool for quail conservation in the area. "Habitat is the key to quail conservation," Scott said, "By working with area farmers to implement financially sound conservation practices on their land, we can make an immediate impact on quail in central Illinois. Not only do these conservation efforts benefit bird hunters, but the natural resource improvements help the entire community."
Helping the Central Illinois Bobwhites Chapter of Quail Forever make its local impact will be Quail Forever's unique local model. Founded by Pheasants Forever in 2005 to address the nation's quail population decline, Quail Forever applies the successful Pheasants Forever model of empowering local chapters with the responsibility to determine how 100 percent of their locally raised conservation funds will be spent. As a result, the organization's 125,000 members and more than 700 chapters see the fruits of their conservation efforts in their own communities, while belonging to a national organization with a broader voice on federal conservation policy in Washington, D.C.
"There is a long tradition of quail hunting in Illinois and these folks in the new Central Illinois Bobwhites chapter are dedicated to making sure that tradition continues," reported Tim Caughran, Quail Forever Regional Wildlife Biologist in Illinois. "Habitat is the key to bringing back the area's quail populations and this chapter is ready to get to work on habitat projects with local farmers and landowners."
The Central Illinois Bobwhites Chapter of Quail Forever will hold its first fundraising banquet on Saturday, March 6th at St. John's Vienne in Sherman, Illinois. The public and media are invited to attend. For more information and tickets to the banquet, contact Lee Scott at 217.636.7723.
About:
Quail Forever is a non-profit conservation organization dedicated to the conservation of quail, pheasants and other wildlife through habitat improvements, public awareness, education and land management policies and programs. Its unique model ensures that 100% of all the funds raised locally is spent by the local chapter.  Illinois is home to 16 Quail Forever chapters. For more information, contact Tim Caughran, Quail Forever Regional Wildlife Biologist, at 618.791.3909 and/or [email protected].