Dave Young Becomes Consultant For Uncle Mike's Law Enforcement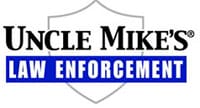 Overland Park, KS. —-(AmmoLand.com)- Uncle Mike's Law Enforcement has announced the hiring of Dave Young, Director of ARMA Training, as a consultant.
Dave has nearly 30 years of experience in combined military and civilian law enforcement training.
He was a sworn corrections and law enforcement officer in the state of Florida and has served as a gate sentry, patrol officer, watch commander, investigator, Special Reaction Team member and leader and commander in the United States Marine Corps.
Dave is recognized as one of the nation's leading defensive tactics instructors, specializing in personal survival, crowd management, non-lethal weaponry, chemical and special impact munitions, protocol and selection of gear and munitions, ground defense tactics, the founder of water based defensive tactics and the universal handgun retention system.
Dave has been featured on numerous television networks, including CNN and FOX, as well as hosting his own show, "Crash Test Human" and "Police Technology" on the National Geographic Channel.
"I have been using police gear since 1980 and still have the first Uncle Mike's handcuff case I was given – that's durability", said Young. "I have been a police trainer since 1985 and have seen all kinds of gear from many different manufacturers. My classes are physically demanding and we require each student wear their assigned duty gear when conducting the survival drills. When their gear breaks, or becomes damaged and unusable, I give them gear from Uncle Mike's to replace it. Uncle Mike's gear has proven to be the most dependable, reliable and trustworthy I have seen to date."
Young will use his real world knowledge, background, training history and experience to help improve the Uncle Mike's Law Enforcement line, as well as developing new cutting edge products for the law enforcement community.
For more information, go to www.unclemikesle.com or call consumer inquiries at 800-423-3537.
Bushnell Outdoor Products is a global manufacturer and marketer of branded consumer products based in Overland Park, Kansas. Bushnell Outdoor Products sells its products worldwide under the Bushnell®, Tasco®, Serengeti®, Bollé®, Uncle Mike's Law Enforcement®, Stoney Point®, Hoppe's®, Butler Creek®, Kolpin®, Uncle Mike's®, Final Approach®, Cébé®, Simmons® and Millett® brand names. For information about any of these brands or products, please contact Bushnell Public Relations at (913) 752-6105.