Final Approach Introduces Three New Duck Decoys For 2010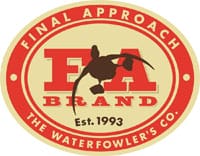 Overland Park, KS. — -(AmmoLand.com)-Final Approach is adding three new popular duck decoys to its line for 2010. New models available in the FA Gunners HD line include Green Winged Teal, Canvasback floaters and Field Mallard Shells.
All Final Approach duck decoys are designed by nationally acclaimed working decoy artist Mary Hanson. Marty's designs feature flawless anatomy with rich intricate detail and feather texture that is unequaled in the industry. The decoys have custom quality paint schemes that are both highly visible and durable.
The Green winged Teal and Canvasback floaters are of one-piece design, including the head and keel. They each come in a 6-pack with three drakes and three hens.
The Field Mallard Shells are available in a 12-pack of upright decoys with 4 different head positions, or a 12-pack of feeder decoys with 5 different head positions. All the Field Mallard Shells come with motion stakes and feature the Dura-ConnectTM head attachment system.
For more information, visit www.fabrand.com or call consumer inquiries at 800-423-3537.
Bushnell Outdoor Products is a global manufacturer and marketer of branded consumer products based in Overland Park, Kansas. Bushnell Outdoor Products sells its products worldwide under the Bushnell®, Tasco®, Serengeti®, Bollé®, Uncle Mike's Law Enforcement®, Stoney Point®, Hoppe's®, Butler Creek®, Cébé ®, Uncle Mike's®, Final Approach®, Simmons® and Millett® brand names. For information about any of these brands or products, please contact Bushnell Public Relations at (913) 752-6105.