The New Final Approach Pack-N-Go S.U.B. Layout Blind Is The Perfect Solution For Hunters With Limited Space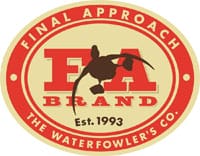 Overland Park, KS. — -(AmmoLand.com)-The new Pack-N-Go Sport Utility Blind from Final Approach is the perfect layout blind for hunters who don't have a pickup, or are short on storage space. The S.U.B Blind has all of the great features of the Original S.U.B. but quickly and easily collapses and compresses into a package small enough to fit into the trunk of a compact car, while retaining its structural integrity.
The lightweight rust-free aluminum frame is rugged and built to stand up to years of hard use.
The blind comes with backpack straps and a built-in scabbard to make it easy to carry both the blind and your gun into the field in one trip.
The S.U.B Blind is covered in durable rot-resistant 600D poly fabric with a waterproof backing. It has the original Stubble Straps attached for adding local vegetation for extra concealment.
The S.U.B. Blind measures a roomy 36"W x 85"L x 18" H. It has a padded head rest and gun rest. The blind collapses flat to 18"W x 44"L.
For more information, visit www.fabrand.com or call consumer inquiries at 800-423-3537.
Bushnell Outdoor Products is a global manufacturer and marketer of branded consumer products based in Overland Park, Kansas. Bushnell Outdoor Products sells its products worldwide under the Bushnell®, Tasco®, Serengeti®, Bollé®, Uncle Mike's Law Enforcement®, Stoney Point®, Hoppe's®, Butler Creek®, Cébé ®, Uncle Mike's®, Final Approach®, Simmons® and Millett® brand names. For information about any of these brands or products, please contact Bushnell Public Relations at (913) 752-6105.