Final Approach Stubble Ropes Offer Quick And Easy Concealment For Layout Blinds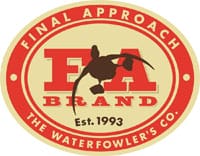 Overland Park, KS. — -(AmmoLand.com)- Good camouflage is essential when hunting wary waterfowl from a layout blind. Sometimes finding enough local vegetation to place on the blind can be a problem, along with the fact that it often falls apart and can only be used once.
The new Stubble Ropes from Final Approach provide hunters a durable, re-usable product that can help quickly add extra concealment to their layout blinds.
Stubble Ropes are constructed of Final Approach lightweight, durable Stubbleskinz™ material sewn into a strip along with some of their popular Whoopgrass. The Whoopgrass is made from natural fibers and is durable and rot resistant.
There are five Stubble Ropes per package; enough to cover one layout blind with space to add local stubble from the field you are hunting. The Stubble Ropes can be left on the blind throughout the season.
Final Approach Stubble Ropes come in three colors – Corn Prairie, Edge Brown and Snow.
For more information, visit www.fabrand.com or call consumer inquiries at 800-423-3537.
Bushnell Outdoor Products is a global manufacturer and marketer of branded consumer products based in Overland Park, Kansas. Bushnell Outdoor Products sells its products worldwide under the Bushnell®, Tasco®, Serengeti®, Bollé®, Uncle Mike's Law Enforcement®, Stoney Point®, Hoppe's®, Butler Creek®, Cébé ®, Uncle Mike's®, Final Approach®, Simmons® and Millett® brand names. For information about any of these brands or products, please contact Bushnell Public Relations at (913) 752-6105.