Gun Owners To Descend On Virginia General Assembly In Richmond
Complete Transformation of Gun Rights Laws Sought for 2010.
Event date Martin Luther King Day, Monday, Jan. 18th.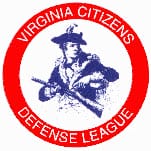 Virginia – -(AmmoLand.com)- As in years past, hundreds of members of the Virginia citizens Defense League will gather at the General Assembly in Richmond at 9AM on the morning of Martin Luther King Day (Monday, Jan. 18th, 2010) to conduct coordinated lobby operations.
Some will drive for hours to attend and stay overnight in Richmond area hotels.
The theme for the 2010 VCDL Lobby day is "Transforming Gun Rights in Virginia."
Bills have been filed already to (1) repeal the ban on concealed carry in restaurants that serve alcoholic beverages, (2) repeal the ban on purchasing more than one handgun a month, (3) allow a concealed handgun permit holder to carry a concealed handgun in any government facility being used as an emergency shelter, and (4) to streamline the application process for concealed handgun permits by (a) allowing applicants to apply for permits by mail and (b) without having to submit to fingerprinting.
Only a very few other states ban concealed carry in restaurants that serve alcoholic beverages or ration handgun purchases, and 75% of Virginia localities do NOT require fingerprinting anyway, including Fairfax, Loudoun, and Prince William Counties, and the City of Richmond.
Throughout Lobby Day, hundreds of gun owning constituents wearing "Guns Save Lives" stickers will visit legislators and staff members to discuss the VCDL gun rights agenda, drop off the VCDL legislative analysis white paper, and attend committee hearings. Many of these law-abiding citizens will be carrying loaded handguns and bringing friends, family, and kids in tow.
VCDL Lobby Day culminates in a rally on the capitol clock tower green at 11AM to listen to pro-gun rights leaders and speakers – videos of past rallies can be found at VCDL.org's main page.
VCDL's Lobby Day 2010 activities are summarized at https://www2.vcdl.org/webapps/vcdl/vadetail.html?RECID=4582849
VCDL's 2010 gun bill tracker can be found at https://www.vcdl.org/static/2010leg.html and will be updated every day the General Assembly is in session.
Philip Van Cleave President, VCDL 804-639-0600
[email protected]
About:
Virginia Citizens Defense League, Inc. (VCDL). VCDL is an all-volunteer, non-partisan grassroots organization dedicated to defending the human rights of all Virginians. The Right to Keep and Bear Arms is a fundamental human right. Visit: www.vcdl.org