Jim Range Wins Budweiser Conservation Award
TRCP co-founder and former chairman Range selected 2010 recipient by public vote; honors Range's lifetime of conservation achievements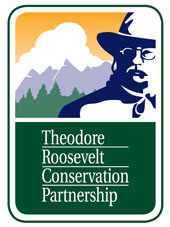 WASHINGTON, DC –-(AmmoLand.com)- Jim Range, a preeminent American sportsman-conservationist whose lifetime of accomplishments included co-founding and leading the Theodore Roosevelt Conservation Partnership, has been posthumously honored as the 2010 Budweiser Conservationist of the Year Award, the TRCP announced today.
The Conservationist of the Year Award, presented last night by Budweiser and the National Fish and Wildlife Foundation at the 2010 Shooting, Hunting and Outdoor Trade Show, recognizes individuals who have made exceptional contributions to perpetuating the American outdoor way of life. The winner receives $50,000 to direct to his or her conservation organization of choice. In addition, the award can be matched, and its value could reach as much as $200,000. Range's family has designated the TRCP to receive the proceeds from this honor.
"The TRCP is proud to be guided by the vision and legacy of Jim Range, one of the country's greatest sportsmen-conservationists," said TRCP Chairman Jim Martin, "and we are profoundly honored to have this legacy recognized through his selection as Budweiser Conservationist of the Year.
"In the 12 months since Jim was so suddenly taken from us, the thousands who knew him and supported his conservation work have struggled to find ways to express our sorrow at his loss – and sought ways to pay tribute to his tireless efforts to ensure responsible management of our natural resources," Martin continued. "Budweiser and NFWF have given us the means to acknowledge all that Jim has done to uphold our outdoor way of life."
In addition to his leadership in establishing and chairing the TRCP, Range served on the boards of directors for numerous organizations, including Trout Unlimited, Ducks Unlimited, the Wetlands America Trust, the Recreational Boating and Fishing Foundation, the American Sportfishing Association, the American Bird Conservancy, the Pacific Forest Trust, the Yellowstone Park Foundation and the Bonefish and Tarpon Trust. He also was an original NFWF board member and worked directly with many other hunting, fishing and conservation groups to advance conservation and sportsmen's interests in Washington and around the country.
During his 11 years on Capitol Hill working for Sen. Howard Baker, Range fought tirelessly to conserve our natural resources with a bipartisan approach that became his trademark. He played a central role in the passage of several landmark laws, including the Clean Water Act. In 2003, Jim received the U.S. Department of the Interior's Great Blue Heron Award, the highest honor given by the department to an individual at the national level.
"On behalf of the family of Jim Range, we want to thank Budweiser and the National Fish and Wildlife Foundation for their recognition of Jim's efforts to preserve and protect the notion that all Americans will have access to America's natural resources for future generations for hunting and fishing," said John Neel Range, Jim's brother, who was on hand to accept the award. "Jim was keenly aware that 'we gotta save this thing we love 'cause ain't nobody else gonna do it.' With this generous award, we can ensure that others will be able to continue his efforts."
Since Anheuser-Busch was founded in 1852, the company has committed to conserving natural resources. Budweiser, its partners and consumers have raised $8.7 million over the past 10 years to conserve vital habitat and wildlife across the country. Visit www.anheuser-busch.com.
Established by Congress in 1984, NFWF sustains, restores and enhances the nation's fish, wildlife, plants and habitats and has awarded more than 10,000 grants to 3,500-plus organizations. Its work has resulted in more than $1.5 billion invested in conservation. Visit www.nfwf.org.
Learn more about Jim Range, his efforts on behalf of America's sportsmen-conservationists and the fund established in his memory.
Inspired by the legacy of Theodore Roosevelt, the TRCP is a coalition of organizations and grassroots partners working together to preserve the traditions
of hunting and fishing.