Members and Friends of Iowa Gun Owners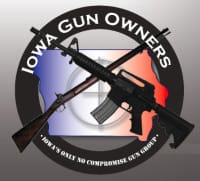 Iowa – -(AmmoLand.com)- The 2010 Legislative Session is underway in Des Moines and concealed carry promises to be a big issue.
Representatives from Iowa Gun Owners will be on hand all session long to advocate for the REAL Right-to-Carry bill.
Last year, with your help, we were able to get a tie vote in the Iowa House on the most pro-gun bill ever introduced in Iowa! We are taking that momentum right back into the Capitol and are pushing to get a vote in the Senate.
We are also pushing a bill that would eliminate Iowa's abusive Permit-to-Acquire law that makes law abiding Iowans get government permission before being able to buy a handgun for self-defense.
We will also be keeping a watchful eye over any attempts made by the anti-gun politicians to move bad gun bills.
One seems to be in the works right now – keep reading below to find out more and to see the pre-written message that you can send in to your politicians.
That's what Iowa Gun Owners is doing right now to preserve and enhance your right to keep and bear arms. But we need your help as well. Besides sending in the pre-written e-mails that are below, can you help us right now with a donation?
For the next 80 days anything can happen at the Capitol and we need to be able to respond to it. Direct mail, literature drops, and other mobilization methods all cost money and we need your support for this fight.
If you can give through the mail you may do so to the following address:
Iowa Gun Owners, P.O. Box 3585, Des Moines, IA, 50323.
Yours for the Right to Keep and Bear Arms,
Aaron Dorr
Executive Director
Iowa Gun Owners
About:
Iowa Gun Owners (IGO) was formed in January of 2009 to combat the oppressive gun laws in the State of Iowa. IGO does not believe that you, as a law abiding citizen, should have to beg permission from the government to be able to defend yourself and your family. That's why we are working so hard to get a Vermont/Alaska style carry law passed in Iowa. In these states, unless you are a convicted felon or otherwise barred from possessing weapons, you don't need a permit to carry a gun for self-defense! Join us now! Visit: www.iowagunowners.org