Muzzy Presents Tall Man Award To Jay McAninch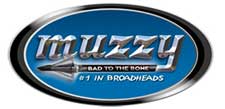 Cartersville, GA – -(AmmoLand.com)- Each year Muzzy Products Corporation bestows its prestigious Tall Man Award to someone who "stands tall" among his or her peers by contributing to the community and going above and beyond to promote and protect the future of archery and bowhunting.
This year Muzzy proudly presented the award to Jay McAninch, chief executive officer/president of the Archery Trade Association (ATA), at the 2010 ATA Trade Show in Columbus, Ohio.
The ATA has served its members since 1953, and McAninch has held his position with the organization since 2000. The association is dedicated to making the industry profitable by decreasing business overhead, reducing taxes and government regulation and increasing participation in archery and bowhunting.
"I am extremely honored to receive this award," McAninch says. "The list of previous Tall Man recipients includes people that I admire. I'm especially humbled that the award is presented by Michele and her family who have worked so hard to make Muzzy a highly respected company and a longstanding influence on archery and the industry."
Since becoming president of the ATA, McAninch has steered the ATA toward establishing a solid foundation and process for growing the sports of archery and bowhunting.
"We decided to focus all dollars on state wildlife agencies to put staff in place and to help build programs and facilities for promoting archery and bowhunting throughout the country."
With McAninch's guidance, the ATA's efforts have produced a superb outcome. State agencies are now supporting organizations such as the National Archery in the Schools Program (NASP) and the Explore Bowhunting Program, which work to bring archery into the communities.
"We are working toward a future where kids in urban communities will have the same opportunity to participate in archery as they do to play football, baseball, basketball, gymnastics and other sports."
In appreciation for all of McAninch's contributions to the world of archery, Muzzy congratulates him on being selected as the 2009 Tall Man Award recipient.
For more information on Muzzy Products, call 1-866-387-9307, or check out www.muzzy.com.