The Muzzy Xtreme Duty Bowfishing Kit
For More Fish In the Boat.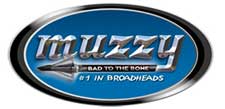 Cartersville, GA – -(AmmoLand.com)- Put more fish in your boat while keeping more money in your pocket with the Muzzy Extreme Duty Bowfishing Kit.
With this kit, you'll get everything you need to set up your bow for some action-packed shooting on the water.
Featuring "The World's Strongest Bowfishing Equipment," the kit includes Muzzy's 1067XD Xtreme Duty Bowfishing Reel, which fights the fish for you and allows for faster arrow retrieval.
In addition, you get the Heavy Duty Reel Seat, full-containment Fish Hook Bowfishing Rest, 100ft of 200# test line and Muzzy's 1020-C Classic Fiberglass Fish Arrow with Carp Point.
The Muzzy Xtreme Duty Bowfishing Kit lets you eliminate the guesswork and get out on the water sooner.
Item # 7502-XD
MSRP: $109.95
For more information on Muzzy products, call
1-866-387-9307, or check out www.muzzy.com.