New Jersey Bill Would Open Door To Resume Bear Hunt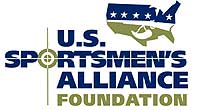 Trenton, NJ –-(AmmoLand.com)- A New Jersey bill would put bear management back into the hands of wildlife professionals, erasing years of anti-hunting efforts by former Governor John Corzine.
Assembly Bill 181, sponsored by Assemblyman Gary Chiusano (R- Frankford Township) and Assemblywoman Alison Littell McHose (R- Franklin), would clear the way for the use of bear hunting to manage the state's burgeoning black bear population. Additionally, the bill clarifies that the state Fish and Game Council has sole authority to implement and regulate black bear hunting in New Jersey.
The bill also prohibits the Commissioner of the state Department of Environmental Protection (DEP) from blocking a bear hunt that has been approved by the Council.
Former DEP Commissioner Lisa Jackson arbitrarily cancelled the state's bear hunt in 2006. In response, the U.S. Sportsmen's Alliance Foundation (USSAF), along with Safari Club International and the New Jersey State Federation of Sportsmen's Clubs filed a lawsuit against the state to challenge the former Commissioner's decision to stop the bear hunt.
That November, the state Supreme Court refused to consider an emergency injunction that would have compelled the Commissioner to proceed with the 2006 hunt.
Since then, Assembly members Chiusano and McHose have led the campaign calling for the Administration to reevaluate its bear hunting ban as the number of incidents between humans and bears continue to increase dramatically.
"This is a critical piece of legislation that would help ensure that science, not politics, will determine New Jersey's bear management policy," said Bud Pidgeon, USSA president and CEO. "The passage of AB 181 would be a monumental victory for New Jersey sportsmen and for scientific wildlife management."
Take Action! New Jersey sportsmen should contact their Assembly members and urge them to support AB 181. Tell them that it is time for wildlife professionals, not politics, to determine the state's bear management policy.
To find your state assembly member's phone number or address, use the USSA Legislative Action Center.
About:
The U.S. Sportsmen's Alliance (USSA) and the U.S. Sportsmen's Alliance Foundation (USSAF) work nationwide, representing over 1.5 million sportsmen through member clubs and individual constituents.  The organizations provide legislative, legal defense and public education services to defend and advance sportsmen's rights in Washington, D.C. and in all 50 states.