Know Exactly Where To Hunt With the Day 6 Outdoors No More Guessing.
Columbus, GA -(AmmoLand.com)- The Day 6 PlotWatcher Camera with TLV (time-lapse video) gives you such an advantage in the field that it's hard to believe its legal.
Imagine what you could learn from sitting in each of your stands for seven days, from dawn till dusk, without a trace of movement or scent.
Imagine knowing where you would be wasting your time and where you have a chance for a great hunt. With the PlotWatcher time-lapse video camera, you don't have to imagine.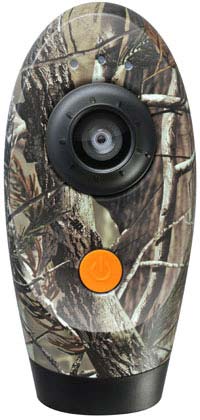 The first of its kind on the market, the Day 6 Plotwatcher Pro Hd Game Camera TLV utilizes time-lapse HD video to record images of an area regardless of how far the subject is from the camera. Unlike typical trail cameras that trigger on short-range motion, the PlotWatcher TLV does not rely on motion detection and can record deer activity at a much greater distance – covering an area 10 times greater than a traditional scouting camera.
When mounted at hunting locations, the PlotWatcher TLV captures game activity days before your hunt. With it, you will see deer's entry and exit sites on the field edges as well as directional movement patterns through open woods so you can determine where the most activity occurs. Using this knowledge you can develop your game plan so that you're in the best position for the hunt. You simply cannot get this information with traditional scouting cameras because of their distance limitations.
Simply retrieve the USB drive before your hunt and play back the PlotWatcher TLV images with its GameFinder video player, and you're armed with up-to-date information that you can use to determine which stand locations are active. The patented software is even armed with MotionSearch, a horizontal movement tracker that aids in detecting game activity. Can your trail camera do that?
To take full advantage of the PlotWatcher TLV, you can set it up in one stand location while you hunt another stand so you can see what action you're missing. This camera is the next best thing to being there yourself. Now you can know where to hunt.
Specifications:
Battery Life: Over 84 hours of daytime time lapse video (7 days typical)*
Replay Time: Review one 12 hour day in under 10 minutes, faster using MotionSearch
Software: Windows Media Player or Day 6 GameFinder Video Player Software with
MotionSearch included
Operating Sys: Windows XP, Vista, Windows 7
HD Video:1280 x 1024 (HD) or 640 x 368 (Std)
Midday Skip: On / Off (On for extended run time)
Time Lapse: 5 sec or 10 sec
GameFinder Software Features:
Replay Speeds: 1/4x, 1/2x, 1x, 2x, 4x
Replay Mode: Fwd, Rev, Frame-by-Frame
Motion Search: Resize and Position the MotionSearch region to automatically find moving game
Export: Save frames as JPEG or exports intervals of video (10, 30, or 60 seconds) for web and email.
*10 second interval setting, using 4 standard alkaline AA cells
For more info, check out www.day6outdoors.com
About:
At Day Six Outdoors, our foundational belief for life and business is that we are to be good stewards of all things our Creator has blessed us with, including this venture. Our name comes from our recognition and thankfulness for the creation of the land animals that we so enjoy and passionately pursue and that were created on the sixth day. It is our desire that our company name will serve to remind all of us to be constantly thankful to our Creator.
Our objective is to develop innovative products that address limitations of products currently available or remove boundaries to traditional ways of doing things. Again, we desire to make every minute of time you spend in the woods as enjoyable and productive as possible. We are committed to doing that in all that we offer.