RAGE Broadheads Introduces The New 125-Grain 2-Blade Expandable Broadhead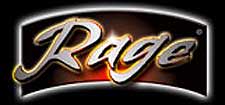 SUPERIOR, Wisconsin —-(AmmoLand.com)- In response to continual customer requests, Rage Broadheads today announced the production of its new heavyweight 125-grain 2-blade broadhead.
With the same two-inch cutting diameter as the popular 100-grain Rage, this new broadhead offers more weight in the ferrule for inflicting maximum damage and penetration.
The revolutionary SlipCam rear blade deployment system on the 125-grain Rage broadhead offers fully deployed blades immediately upon impact, with no loss of kinetic energy. This results in creating huge entry holes, gaping wound channels and unprecedented blood trails. Rage is not only the most humane broadhead on the market; it is also the most forgiving and now it is available in 125-grain 2-blade design.
For those wanting a heavier broadhead with the unprecedented success of the Rage design, the 125-grain 2-blade will be available at retailers nationwide in January. The 125-grain Rage has a black ferrule and the practice head is silver. It will be sold in packs of three broadheads with a free practice head for $44.99.
The Rage is available in 100-grain in either a 2-Blade design, with either the new 1.5-inch or the giant 2-inch cutting diameter, or a 3-Blade design, with a 1.5-inch cutting diameter. For an in-depth look at the Rage and the revolutionary, patented designs, check out the interactive website www.ragebroadheads.com.
Be sure to spend some time looking at the high-speed video footage comparing the impacts of fixed, traditional expandables, and the Rage Broadheads.
Rage Broadheads is headquartered at 101 Main Street, Superior, WI 54880; (715) 395-9955.