Rage Launches Titanium Broadheads
Huge Entry Holes And Bone-Shattering Performance.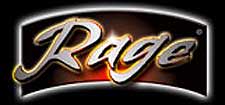 SUPERIOR, Wisconsin —-(AmmoLand.com)- The Rage has introduced its ultimate Titanium Rage 2-blade broadhead that combines a space-age metal with the SlipCam rear-deploying-blade design that has revolutionized bowhunting.
With the strength of steel at a fraction of its weight and with twice the strength of aluminum, titanium is the primary metal used in the aerospace industry due to its superb weight-to-density ratio and relatively ductile nature.
Considering the structure and bone density of big-game animals, titanium is the ultimate choice for hide-cutting, bone-splitting devastation.
The top-of-the-line Titanium Rage 100-grain 2-blade's durability is second to none, and it is designed and tested to withstand numerous hits on bone and soft tissue. Already considered by an overwhelming number of professional bowhunters to be the most devastatingly accurate broadhead design in the world, the Rage raises the bar with the incorporation of titanium construction with the new head. For the bowhunter, this means titanium tough and smaller diameter equals better penetration.
The revolutionary SlipCam rear-blade-deployment system used in the Titanium Rage broadhead offers fully deployed blades immediately upon impact, with no loss of kinetic energy. This results in huge entry holes, gaping wound channels and unprecedented blood trails, and now with the incorporation of titanium construction, the new Titanium Rage has unsurpassed durability and strength for shot-after-shot success.
The Titanium Rage is recognizable by its natural, lustrous metallic color, and it will be sold in packs of three broadheads with a free practice head for $84.99.
The Rage is also available in 100-grain in either a 2-Blade design, with either the new 1.5-inch or the giant 2-inch cutting diameter, or a 3-Blade design, with a 1.5-inch cutting diameter. The new 125-grain 2-blade is also available. For an in-depth look at the Rage and the revolutionary, patented designs, check out the interactive website www.ragebroadheads.com.
Be sure to spend some time looking at the high-speed video footage comparing the impacts of fixed, traditional expandables, and the Rage. Rage Broadheads is headquartered at 101 Main Street, Superior, WI 54880; (715) 395 9955.
VISIT US AT ATA BOOTH #2225