Second Amendment March Needs Volunteer Help
Emergency Medical Technicians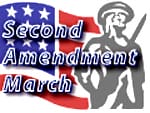 Washington, DC –-(AmmoLand.com)- As you know, the April 19 date for the D.C. march is fast approaching.
There are many things that need to be accomplished before and during the event. We need your help! Below are a few of the volunteer opportunities we have identified so far.
If you can help with any of these, please send an email to Terri Stocke at [email protected]
We will add you to a specific volunteer list and will start organizing each group of volunteers as the march date draws near.
Emergency Medical Technicians
We are looking for volunteer EMT's who will be at the march in D.C. We are required to have a certain number of licensed EMT's working the event (based on size of the crowd). If you would like to volunteer for this, please let us know.
Petition Table
We need 6-8 people to man a petition table (petition is available on our website) to gather signatures at the D.C. March. This can be divided into shifts if we have enough volunteers.
Hosts
Volunteers needed to direct people to the rally location (Washington Monument) from various points within the city. During the rally, circulate amongst the crowd to answer questions and provide assistance as needed.
Second Amendment March
The mission of the Second Amendment March is to galvanize the courage and resolve of Americans; to petition our elected officials against establishing anti-gun legislation; and to remind America that the Second Amendment is necessary to maintain our right to self defense.
It is the one right that protects all others.
We will accomplish our mission by a peaceful march in Washington DC, the United States Capital, supported by satellite marches to State Capitols and smaller cities all across America.
The march in D.C. will take place on Monday, April 19, 2010 on the grounds of the Washington Monument.
About:
The mission of the Second Amendment March is to galvanize the courage and resolve of Americans; to petition our elected officials against establishing anti-gun legislation; and to remind America that the Second Amendment is necessary to maintain our right to self defense. Visit: www.secondamendmentmarch.com