Streamlight Launches Strobing Versions Of Popular Tlr-1 And Tlr-2 Gun-Mounted Lights
Both Feature Enhanced Brightness Levels Over Previous Models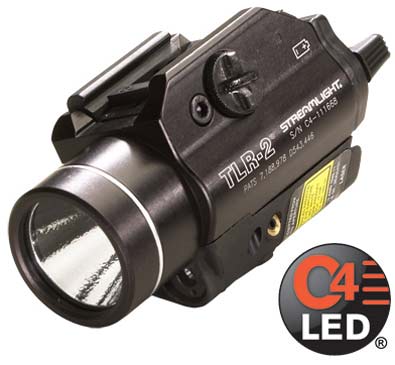 EAGLEVILLE, PA, –-(AmmoLand.com)- Streamlight® Inc., a leading provider of lighting tools for hunting and other outdoor sporting enthusiasts, announced it introduced the TLR-1® s and the TLR-2® s, strobe-equipped versions of its leading gun-mount lights, on January 1.
The new lights, which feature C4® LED technology, provide even greater brightness than earlier models equipped with power LEDs. The TLR-2®s also comes with an integrated laser sight.
"These newest models deliver extraordinarily bright light, whether for directly illuminating a hunting target or disorienting it with the strobe feature," said Streamlight President Ray Sharrah. "Both lights feature enhanced brightness over earlier models, while providing the same ease of use when mounting to and detaching from firearms, eliminating the need for tools or passing your hand in front of the muzzle."
Both the TLR-1®s and the TLR-2®s provide 8,000 candela peak beam intensity and 160 lumens measured system output. The C4 LEDs are impervious to shock with a 50,000-hour lifespan. In addition, Streamlight's proprietary deep-dish parabolic reflector provides a long-range targeting beam with optimum peripheral illumination to aid in navigation. The TLR-2®s features a 650-660 nanometer red laser for long-range targeting.
With extensively live-fire tested impact-resistant construction, both the TLR-1®s and TLR-2®s are made with 6000-series machined aircraft aluminum with a black anodized main body finish. The housing for the TLR-2®s laser is fabricated from a high-impact, chemically resistant engineered polymer.
Both models provide up to 2.5 hours of continuous runtime to the 10% output level, with solid state current regulation for consistent illumination level. The TLR-2®s offers up to 2.5 hours when using the Laser/LED simultaneously.
Both lights offer a momentary-to-steady on-off switch, readily accessible by either right or left hands. The TLR-2®s also provides a three-position mode selector switch for laser only, LED only, or both modes together. The strobe feature on both models is activated within 0.4 seconds of a double tap of the momentary paddle.
The new lights also feature a tethered battery door and latch mechanism that prevents battery door loss while providing easy battery replacement.
Securely fitting to a broad range of weapons, the TLR-1®s and TLR-2®s feature a one-handed snap-on and tighten interface which keeps hands away from gun muzzles when attaching or detaching the lights. The lights mount directly to handguns with Glock-style rails and to all Picatinny rails. Both come with keys for Glock-style, Picatinny, Beretta 90two, S&W 99 and S&W TSW rails. The laser sighting feature of the TLR-2®s also features highly accurate sight repeatability when remounting. Both lights feature extensively live-fire tested, impact-resistant construction.
The TLR-1®s weighs 4.18 ounces while the TLR-2®s weighs 4.72 ounces. Both measure 3.26 inches in length. Both lights are powered by two 3-volt CR123A lithium batteries, which have a storage life of 10 years. The TLR-1®s features an IPX7 rated design, making it waterproof to 1 meter for 30 minutes, while the TLR-2®s features an IPX4 rated design for water resistant operation. Both are backed by Streamlight's limited lifetime warranty. The suggested price for the TLR-1®s is $199; the TLR-2®s suggested price is $488.
Headquartered in Eagleville, PA, Streamlight, Inc. is a leading manufacturer of high-performance lighting equipment for professional automotive, fire fighting, law enforcement, military, industrial and outdoor applications. Streamlight is an ISO 9001:2008 certified company. For additional information, please call (800) 523-7488 or visit www.streamlight.com.