Uncle Mike's Law Enforcement Trunk Organizer Keeps Essential Equipment In Order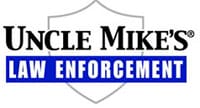 Overland Park, KS. —-(AmmoLand.com)- The new Trunk Organizer from Uncle Mike's Law Enforcement helps peace officers and other emergency responders keep their essential gear organized and quickly accessible.
The bag measures 12"H x 41"W x 22"D and will easily fit into the trunk of any patrol car. There are four corner D-rings to allow the unit to be securely tied down so it will remain in place during all types of driving conditions. There are also two sturdy side carry handles for transporting the unit.
The Trunk Organizer is semi-customizable, with four moveable dividers for quick compartment adjustment, two large front pockets, a removable lid with MOLLE compatible webbing and removable hard backers for easy fold down storage when not in use.
The Trunk Organizer sells for a suggested retail price of $165.95.
For more information, go to www.unclemikesle.com or call consumer inquiries at 800-423-3537.
Bushnell Outdoor Products is a global manufacturer and marketer of branded consumer products based in Overland Park, Kansas. Bushnell Outdoor Products sells its products worldwide under the Bushnell®, Tasco®, Serengeti®, Bollé®, Uncle Mike's Law Enforcement®, Stoney Point®, Hoppe's®, Butler Creek®, Cébé ®, Uncle Mike's®, Final Approach®, Simmons® and Millett® brand names. For information about any of these brands or products, please contact Bushnell Public Relations at (913) 752-6105.