Washington Department of Fish and Wildlife Hunter Reports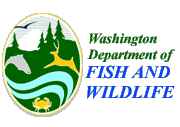 OLYMPIA – -(Ammoland.com)-The Washington Department of Fish and Wildlife (WDFW) is reminding hunters that reports on their hunting activities are due by Jan. 31 for each 2009 black bear, deer, elk, or turkey tag purchased.
All hunters, whether successful or not, are required to submit activity reports. Failure to meet the deadline can result in a fine.
Hunters can report by phone (877-945-3492) or the Internet ( https://fishhunt.dfw.wa.gov ). Hunters should be prepared to give the game management unit they hunted and their individual WILD identification number, which is printed on license documents.
Hunters who miss the activity report deadline must pay a $10 penalty before they can purchase a 2010 hunting license.
The penalty, approved by the Washington Fish and Wildlife Commission in 2005, has greatly improved both hunter compliance with mandatory-reporting rules and the accuracy of harvest reporting, said Dave Ware, WDFW game manager.
"Hunter reports are an important source of information for managing the resource and developing future hunting seasons," Ware said. "We encourage hunters to file their reports in time to qualify for the special-permit drawing."