Millennium Introduces the L110 and the L220 Ladder Stands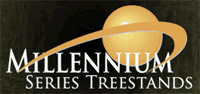 Pearl, Mississippi – -(AmmoLand.com)- Long recognized for producing some of the most comfortable stands on the market, Millennium Treestands presents two new models built to improve the quality and enjoyment of your hunt.
The L110 21-foot single ladder stand and the L220 18-foot double ladder stand boast the same great features as the L100, but with fold-up seats and a full-size shooting platform.
Just like the L100, the L110 and L220 are complete hunting packages designed for all-day comfort and loaded with hunter-friendly features such as ComfortTech Seats, adjustable shooting rails and folding foot rests.
The double rail ladders require no brace to the tree and are much safer and easier to set up than single-rail ladders.
Features:
Strong welded-steel construction
Folds for easy transport
Durable textured non-glare powder-coat finish
Ladder sleeves cut at an angle, easy lineup
Comfortable one-piece tight sling seat is UV-, moisture- and scent-resistant.
Adjustable padded shooting rail and arm rests
Stabilizing strap secures stand to tree before you ever leave the ground
Includes TMA certified Full-Body Harnesses (two come with the L220)
Optional camouflage cold-weather pad available
The L110 has a 300lb capacity and the L220 has a 500lb capacity. Lifetime warranty
For more info, check out www.millenniumstands.com