Muzzy Archery Announces Newly Designed and Updated Website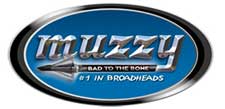 Cartersville, GA – -(AmmoLand.com)- Muzzy has made fresh new updates to the design, features and navigation of its website www.muzzy.com that not only reflects Muzzy's "Bad to the Bone" vibe, but enhances its customers' surfing experience by making it easier to find the information they need.
Among the improvements to Muzzy.com are a dealer locator option and an online dealer application page. An automatic five-rotation feature on the main page showcases Muzzy's established product lines as well as the current new products.
An online video can assist customers with common tech support questions and information, and an "FAQ" segment in the tech support section has detailed answers to frequently asked questions as well.
The enhanced web-store page (Shot-A-Tron) provides a more modern look and easier-to-locate/user-friendly features.
Click on the pro staff page to read bios for each of Muzzy's pro staffers.
The Muzzy Moments link will display the photos along with the customer's story and personal comments about the hunt. Best of all, a featured Muzzy Moment will be periodically rotated every couple of days so that many successful Muzzy users will have their individual time in the spotlight.
A new Muzzy "Bad to the Bone" TV section detailing airings and staff will allow fans to select episodes on their computer or smart phone. Viewers will also be able to connect to Muzzy's Facebook page and Twitter through a special link.
The NEWS tab will display the latest product and TV show news as well as pro staff appearances.
The Muzzy staff hopes you like these user-friendly improvements and feedback is welcome.
Check out www.muzzy.com.