Muzzy Archery Big Fish Arrow Point Adapter
The Maximum Head For the Maximum Fish.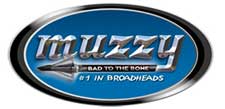 Cartersville, GA – -(AmmoLand.com)- If it's big fish you want, then it's penetration and holding power you need.
The new Muzzy Big Fish Point offers the maximum of both when used on large and powerful soft-flesh fish, such as Grass Carp, Buffalo Carp, Big Head Carp and Paddle Fish.
By using two sets of barbs that feature Muzzy's solid Cam-Lock Hold and Quick-Release Design, this point grabs on and won't let go — at least not until you decide it's time.
When you're ready to remove the fish, simply turn the tip and adapter each twice to release both sets of barbs. The fish will simply slide off over them. Once you've removed the fish, tighten each back two turns, and resume fishing with the point.
This innovative design makes the Muzzy Big Fish Adapter the premier big fish point on the market.
The Big Fish Adapter can also be screwed onto any Muzzy bowfishing point or any standard bowfishing point with ¼-28 tip threads.
For more information on Muzzy products, call 1-866-387-9307, or check out www.muzzy.com.