New Jersey Bear Policy Hearing Update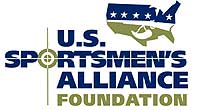 Trenton, NJ –-(AmmoLand.com)- Contrary to previous reports, the New Jersey Bear Management Policy will not be discussed at the February 9 meeting of the New Jersey Fish and Game Council.
Consequently, there will not be an opportunity for public comment at this hearing.
In the mean time, sportsmen should continue to voice their support for the bear management policy by submitting written comments to the FGC at P.O. Box 400, Trenton, NJ 08625.
The U.S. Sportsmen's Alliance will inform sportsmen when the FGC schedules a public hearing on the bear management policy.
About:
The U.S. Sportsmen's Alliance (USSA) and the U.S. Sportsmen's Alliance Foundation (USSAF) work nationwide, representing over 1.5 million sportsmen through member clubs and individual constituents. The organizations provide legislative, legal defense and public education services to defend and advance sportsmen's rights in Washington, D.C. and in all 50 states. For more information about the U.S. Sportsmen's Alliance and its work, call (614) 888-4868 or visit its website, www.ussportsmen.org.