New Knifes from SOG as seen at the Shot Show 2010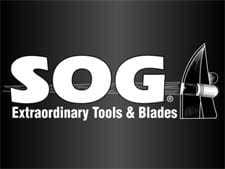 Lynnwood, Washington- -(Ammoland.com)- SOG® Specialty Knives and Tools (www.sogknives.com), with its reputation firmly established as the favored brand for specialty knives and tools by the military, law enforcement personnel, industrial tradesmen and outdoorsmen, is building upon its unique understanding of user needs to introduce true innovation into the category for 2010.
From a new blade geometry that makes the tips of knives stronger and less prone to breaking, to a hybrid lock system that provides strong blade retention and allows the blade guard to pass through, to the launch of their first line of machetes, SOG is continuing its commitment to advancing the state of the art of specialty knives and tools.
Swedge
In conjunction with Brent Beshara, a Canadian special ops military instructor, martial artist and custom knife maker, SOG has created the Swedge, featuring a new blade geometry that makes the tips of knives stronger and less prone to breaking. The functional shapes of the Swedge are fast and powerful with grind lines never used before. All knives within the Swedge line, which are available in 8.3", 9.2" and 10.1" length, feature a full tang, G10 handles for non-slip grip and a heavy-duty Kydex sheath offering a variety of mounting options. MSRP – $155.00 – $175.00.
SOGzilla™
Available in two sizes and blade shapes, including Straight Edge, Partially Serrated, Straight Edge Black TiNi and in the smaller (8.54" length) version, Straight Edge with a Stainless Steel Handle, SOGzilla features a dual directional armor plate grip and a big-bodied blade offering an innovative new opening shape. In hand, the knife points instinctually and feels familiar, with steel liners making for a stout construction. SOG's patented low carry reversible clip makes it possible for the knife to stay caged while in the pocket. MSRP – $43.00 – $55.00.
Aura™ Fixed Blade
Building upon the traditions of the past, and inspired by the original bowie knife created by Rezin Bowie in 1938, the Aura Fixed Blade represents the future in utility, ergonomics and comfort. A high-impact and tough glass-reinforced polymer handle is over-molded with a pliable material for non-slip comfort. The blade design has been adapted to provide safety without the need for a cross – guard isolating the hand. A carbide sharpener is accessible in the back of the handle to provide field touch-ups for the sharp and durable edge. Available in 10.95", 10" or 11.9" lengths and with a straight or partially serrated edge. MSRP – $53.00 – $60.00
Aura™ Folding Knife
The Aura Folding Knife carries many of the same features as the fixed blade line, and offers a hybrid mechanism lock system using SOG's ARC-Actuator. This provides strong blade retention and allows the blade guard to pass through. The blade can be opened and locked with either hand and features a drop point tip, flat grinds and thumb notches for extra control. Features a compact sharpener for field touch up. MSRP – $50.00.
AutoClip Series
2010 marks the return of SOG's popular AutoClip series, a no-nonsense line of lockbacks that are lightweight, durable and affordable. The name comes from SOG's spring-activated clip design, which allows variable thickness pant edges to be treated equally with the proper clamping force. The patent-pending adjustable thumbstud fine tunes the knife's position and tailors it to your hand. The AutoClip's signature basket weave texture insures non-slip performance. Blades are ground with a two-directional high gloss satin finish. Available in several sizes and styles. MSRP – $18.00 – $30.00
SOGfari Machete
The first ever SOG machete has been designed and created with the same attention to the user experience as with their knives and tools. Careful attention has been given to ensure the optimum weight and comfortable handles for extended use. A real working saw added to the back of the blade provides teeth with cutting power, while extended from the back of the handle is a spiked tang for pounding and scraping. Holes in the handle allow for mounting of lanyards. Available in 13" and 18" lengths. MSRP – $27.00 – $33.00
About:
SOG was an acronym which stood for Studies and Observations Group. Sanctioned to develop and purchase their own equipment, SOG created several knives for use in one of the harshest environments in the world. It was in the spirit of this elite group, and the quality equipment they commissioned, that SOG Specialty Knives and Tools was founded in 1986 by Spencer Frazer.