NRA's Scott Olmsted Receives First Ever Ian Mcmurchy Award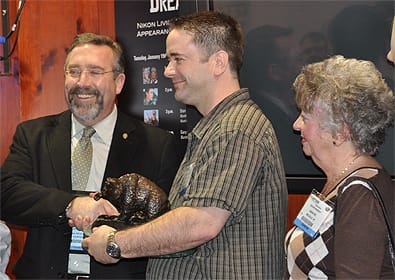 FAIRFAX, Va. –-(AmmoLand.com)- Scott Olmsted, Editor-in-Chief of the NRA's American Hunter magazine, has been honored with the first ever Ian McMurchy Award.
This award will be given annually to one outdoor communicator who best follows in McMurchy's footsteps of educating and entertaining readers.
"Ian was a great communicator and was passionate about helping people through his writing and his life, myself included," said Jon LaCorte, Senior Product Marketing Manager for Nikon Sport Optics. "I believe Ian would agree that Scott Olmsted does an excellent job carrying that torch."
Unfortunately for his family, friends and countless readers, Ian passed away in December of 2008. Known as much for his shooting skill as his hunting ability, he loved every minute spent in the outdoors. Having introduced hundreds of people to shooting more accurately and hunting more successfully, Ian will be long remembered.
"I'm very honored to be the first recipient of the Ian McMurchy Award." said Olmsted. "We all miss Ian dearly as the hunting and shooting community has lost a great friend."
Nikon Inc. is the U.S. distributor of Nikon sports and recreational optics, world-renowned Nikon 35mm cameras, digital cameras, speedlights and accessories, Nikkor lenses and electronic imaging products.
For more information on Nikon's full line of Riflescopes, Binoculars, Spotting Scopes, Fieldscopes and Laser Rangefinders, please contact: Nikon Sport Optics, 1300 Walt Whitman Rd., Melville, NY 11747-3064, or call 1-800-645-6687. www.nikonhunting.com.