Quail Forever Going Greene in Illinois
New Greene County quail conservation group is state's 17th Quail Forever chapter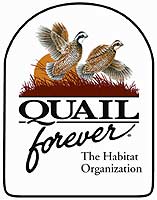 Roodhouse, Ill. – -(Ammoland.com)-  Hunters and outdoor enthusiasts in Greene County, Illinois, have formed the state's newest Quail Forever chapter. Known as West Central Illinois Quail Forever, new chapter members are excited about conserving and creating bobwhite quail habitat in the region.
As a Quail Forever chapter, the West Central Illinois Quail Forever group will utilize Quail Forever's local approach to wildlife habitat conservation. Unlike other national conservation organizations, Quail Forever gives local Quail Forever chapters the ability to decide how 100 percent of their fundraised dollars are spent.
This local control gives chapters and members the ability to make things happen for habitat in their communities, while belonging to a national organization that gives wildlife and conservation a voice in Washington, D.C.
As a new addition to the Quail Forever organization, chapter leaders are proud to bring years of conservation experience to the Greene County area. With this amount of expertise available to local landowners, chapter president Andy Carroll is hopeful to see habitat improvements within a short time.
"We have the knowledge and tools necessary to help area residents with their quail habitat projects," said Carroll, "Our chapter would be happy to assist any landowner with his or her wildlife habitat management goals. If community members would like to establish quail food or cover plots on their property, our chapter would be more than willing to offer assistance through seed purchase orders and habitat maintenance crews," Carroll continued. "We are dedicated conservationists who thoroughly enjoy working for the betterment of the environment, and this a great way to show that commitment."
West Central Illinois Quail Forever
· Dixie Garner of Roodhouse has been named the chapter's treasurer.
· The chapter's first annual banquet fundraiser is scheduled for the last weekend of August at Garner's Archery in Roodhouse. More details TBA.
· To join West Central Illinois Quail Forever, or for more information about the chapter, contact Andy Carroll at (217) 248-9863 or by email at [email protected]
Quail Forever is the quail division of Pheasants Forever. Illinois is home to 17 Quail Forever chapters, 43 Pheasants Forever chapters and 9,000 members of "The Habitat Organization." For more information about Quail Forever in Illinois, contact Tim Caughran, Quail Forever regional wildlife biologist, at (618) 791-3909 / [email protected]
For additional information please visit www.QuailForever.org