RIA February Regional Firearms Auction Begins 10am This Saturday
Saturday, February 27 & Sunday, February 28. Full day preview Friday, February 26.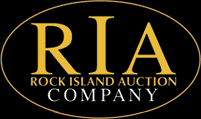 Rock Island Auction Company – -(AmmoLand.com)-  Last February our Regional Sale was a huge success with standing room only! This one is gearing up to provide the same level of interest and excitement.
This auction offers over 5000 firearms ranging from antique to modern. Browse the website or catalog for military, hunting, sporting or antique firearm(s) and accessories!
Click Here To View The Catalog And Bid!
Over 2100 Lots
Over 5,000 Firearms
3800+ items classified as Antique or Curio and Relic
Hundreds of Military Arms
Including knives, double action revolvers, lugers, 1911's, M1 Garands, M1 Carbines, WWII items including helmets, badges, medals, binoculars and much more
Over 200 Smith & Wessons
Two examples include: Smith & Wesson second model number three Russian revolver with ivory grips and New York style engraving and a custom engraved Smith & Wesson 44 Frontier double action revolver.
Over 350 Winchesters
Lever Actions 1866 – 1895, plus sporting rifles and slide action shotguns
Nearly 500 Colts
Percussion through Double Actions, including a Colt first model dragoon percussion revolver, a first generation Colt single action army revolver and a first year production Colt lightning slide action small frame rifle
Hundreds of Sporting Arms
From Remington, Sako, Browning, Beretta, High Standard, Mauser, Marlin, Weatherby and many more.
PLUS:
Edged Weapons, Ammunition, Books, Firearms Parts, Military Prints, UMC Cartridge Board, Winchester Signal Cannon with Carriage, Saloon Items, Display Cabinets and more!
Place your absentee bids now! Submit your bids through phone (800-238-8022), fax (309-797-1500), email [email protected] and our website! For the first time, you can now bid live through proxibid! CLICK HERE
What happens after the auction?
On Monday (3/1) after the auction we will not be answering phones, this gives us the opportunity to check our records and begin to contact successful bidders. We will be open for pickup the entire week. Our hours are Monday – Friday 8 am – 5 pm. We will also be open on Saturday, March 6, 9:00am – noon for pickup.
How do I know if I am successful?
Email: All bidders will receive an email each night of the auction. It will let you know if you won any items or not for that day's auction. At the conclusion of the auction notifications are sent to website account holders to view preliminary results.
Your RIA Web account: To view the items won, the amount of the hammer price and the status of your remaining bids login to your web site account and click the "Current Bids" link in your account tools.
By Phone: We will call all successful bidders the week after the auction. At that time you will have your total with shipping and buyers premium, all you have to do is tell us if you are paying by cash/check or credit card. If your item requires an FFL please have the name and address ready, you may be asked to have your FFL dealer fax a copy of their license if we do not have one on file.
Auction times:
Preview – Friday, February 26: 10am – 6pm
Auction – Saturday, February 27: Preview: 8am – 10am Auction begins at 10am / Sunday, February 28: Preview: 8am – 10am Auction begins at 10am
Viewing is open all day during the auction Saturday on items not being sold that particular day.
Click Here To View The Catalog And Bid!
Bring Your Consignment To The February Auction!
We will be accepting consignments during the February auction. If you plan on attending and have items you would like to consign, save yourself a trip! Please call to make an appointment 800-238-8022 or 309-797-1500.
Address: 4507 49th Avenue
Moline, IL 61265-7578
United States of America Phone: 1-800-238-8022
Fax: 309-797-1655
Email:
[email protected]
About:
Rock Island Auction Company has been solely owned and operated by Patrick Hogan. This company was conceived on the idea that both the sellers and buyers should be completely informed and provided a professional venue for a true auction. After working with two other auction companies, Mr. Hogan began Rock Island Auction in 1993. Rock Island Auction Company has grown to be one of the top firearms auction houses in the nation. Under Mr. Hogan's guidance the company has experienced growth each and every year; and he is the first to say it is his staff's hard work and determination that have yielded such results. Visit: www.rockislandauction.com