Round-Up Contributions to NRA-ILA from MidwayUSA Pass $5 Million Milestone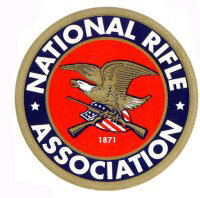 FAIRFAX, VA. –-(AmmoLand.com)- The National Rifle Association (NRA) is proud to announce that MidwayUSA has collected more than $5 million through the NRA "Round-Up" program, bringing the company's total giving to the NRA to over $8 million.
Created by MidwayUSA founders Larry and Brenda Potterfield in 1992, NRA's "Round-Up" program asks customers to "round up" their order amount to the next highest dollar. The proceeds are then sent to the NRA-ILA's National Endowment for the Protection of the Second Amendment.
"We're proud the Round-Up Program has been so successful," said Mr. Potterfield. "It's an easy way to offer customers the opportunity to make a big difference in the future of hunting and shooting."
Each week, MidwayUSA sends a check to the NRA which is then deposited in the Endowment for the Protection of the Second Amendment. To ensure that the fund continues to grow, no donations are spent. Instead, NRA-ILA utilizes the interest from the account for fighting anti-gun legislation across the United States.
Charter members of the NRA Golden Ring of Freedom, Larry and Brenda Potterfield have been active patrons of the NRA for years and supported programs such as "Round-Up," the Bianchi Cup, Friends of NRA, the Keystone Endowment, and The NRA Annual Meetings and Exhibits to name a few. Their leadership in this field is testimony to their devotion to freedom and the protection of our Second Amendment rights under the U.S. Constitution.
"We can't thank the Potterfields and MidwayUSA customers enough," said Wayne LaPierre, NRA Executive Vice President. "In the history of the NRA, no other company has given so generously to support the Second Amendment. Larry and Brenda's idea for the Round-up program was pure genius by itself, but their additional support of other NRA programs is inspiring. We are deeply grateful for their friendship and trust."
MidwayUSA is the world leader in the distribution of shooting and reloading supplies and equipment. They offer a huge selection of shooting, reloading, gunsmithing, hunting and outdoor products to customers worldwide. For more about MidwayUSA, call 1-800-243-3220 or visit their website at www.midwayusa.com.
To learn more about making a gift to benefit NRA programs, contact Nicole Capossela, Director of Corporate & Foundation Relations, NRA Office of Advancement, (703) 267-1122 or visit www.nragive.com.