Second Amendment March Auctions Unique Opportunity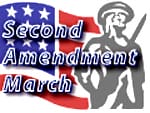 Delton MI –-(AmmoLand.com)- Today, the Second Amendment March announced that it will be running an auction on GunBroker to allow companies or individuals the unique opportunity to bid for a place on the march's centerpiece, the event stage which can feature sponsor logos.
The goal is to encourage a bit of friendly competition among businesses that rely on the right to keep and bear arms for their livelihoods, or even patriotic private donors, so as to help defray the costs of the event.
The Second Amendment March will take place on April 19 of this year in Washington DC, when gun owners from all walks of life, from all political stripes and from all across the country have committed to making the journey to Washington DC to hear speakers such as Larry Pratt of GOA, Suzanna Gratia-Hupp, Mark Walters, Michael Bane, Stuart Rhodes of Oathkeepers and other luminaries. The intent is to pressure the government to stop destroying a unique part of American life.
"Firearms manufacturers have the most to gain by helping to protect and preserve the Second Amendment, they also have the most to lose when the lights go out on our rights" said Robert Kreisler, marketing coordinator for the SAM. "The civilian population presents an enormous market, and any smart business knows that being out in front of a segment which has so much buying power is always a good idea. We need to remember that police and retired military who will be there are civilian consumers, too."
"Turnout is sure to be impressive. This is the 'tea party' for gun owners, and attendees be looking for which manufacturers supported their rights… and which manufacturers didn't," said Kreisler. "If you invite a friend over and he doesn't show up and has no good explanation, it says something."
"Bottom line, with the McDonald decision right in front of us, all our chips are on the table, the wheel is spinning and the ball will fall either red or black. We need to send a message. Also, we're on the cusp of the mid-term election season, so the timing for such an event couldn't be better," said Skip Coryell, founder of the march and Marine Corps veteran.

"We can think of a dozen reasons for why to donate, but mostly, it's for the reasons we can't measure now, but which history will decide, that make the most difference and mean so much. If the light switch is ever flipped off on our rights, at least we'll know that we went down swinging while others sat by and watched" Coryell added.
The auction will be online at www.gunbroker.com under the ID 'Second-Amendment-March'. Interested parties with questions can contact Robert Kreisler at [email protected] via email.
The Second Amendment March is a non-profit (501c4 pending) nonpartisan organization founded to petition our officials against establishing anti-gun legislation, regulations or other encroachments in the form of treaties, to appeal for a reduction in anti-gun controls.
About:
The mission of the Second Amendment March is to galvanize the courage and resolve of Americans; to petition our elected officials against establishing anti-gun legislation; and to remind America that the Second Amendment is necessary to maintain our right to self defense. Visit: www.secondamendmentmarch.com