Second Amendment March Bus Trip Sponsored by New Jersey Coalition for Self Defense
Bus Trips Forming Now!
Rockaway, NJ –-(AmmoLand.com)- This coming April 19th, the New Jersey Coalition for Self Defense will be running a bus trip to bring patriots from across the state to the Second Amendment March in Washington DC.
The mission of the Second Amendment March is to petition our elected officials against establishing anti-gun legislation, regulations or other encroachments in the form of treaties; and to remind America that the Second Amendment is necessary to maintain our right to self defense.
It is the one right that protects all others.
We will accomplish our mission by a peaceful march in Washington DC, the United States Capital, when patriots from all across america join on the gronds of the Washington Monument.
Be part of this history making event by booking your seat on the bus today!
April 19th, 2010 from 10AM to 4PM
Washington Monument, Washington DC
The NJCSD is running bus trips departing from Rockaway Mall, Quaker Bridge Mall and the Deptford Mall.
Please go to our website at: www.njcsd.org to book your seat.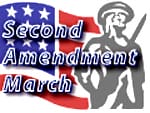 About:
The mission of the Second Amendment March is to galvanize the courage and resolve of Americans; to petition our elected officials against establishing anti-gun legislation; and to remind America that the Second Amendment is necessary to maintain our right to self defense. Visit: www.secondamendmentmarch.com
About:
NJCSD – Defending Your Right to Defend Yourself Visit: www.njcsd.org