Shooters Ridge Launches Redesigned Website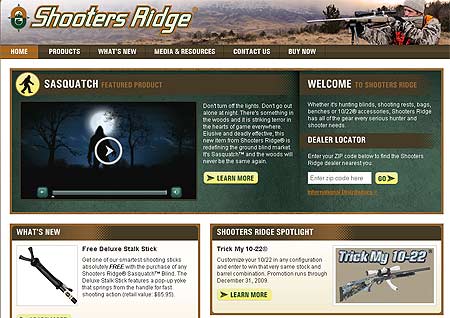 ONALASKA, Wis. –-(AmmoLand.com)- February 23, 2010 – The shooting accessories experts at Shooters Ridge® have launched a new and improved website at www.shootersridge.com.
The redesigned website helps shooters of all backgrounds quickly find what they are looking for, every time.
The company has transformed the site, invigorating a new look and feel to support the growing brand. New images, concise text and cleaner, easier navigation helps retailers and shooters move better through the site to locate information and product.
On target:
Site upgrades provide convenient solutions. Shooters Ridge, a leader in shooting supports and accessories industry, proudly offers a new website with convenient solutions for shooters. It features widely acclaimed products such as Shooters Ridge swivel bi-pods, Picatinny bi-pods, bench shooting rests, range or hunter gear bags and universal shooting sticks.
The company tailored the new site to the needs of its regular visitors for the ultimate user experience. Shooters Ridge based the information architecture of its new website on input directly from its users.
"We wanted the site to reflect the way real visitors use the content," said Raluca Simian, brand manager. "As a result, visitors will find new product coverage, company and industry news, and the latest promotions front and center."
Site highlights ideal, consistent shooting accessories for any sportsperson
The following areas stand out as most prevalent on the site:
Featured products: Products like Sasquatch Blinds, the Ultimate Range Bag and the new Stripper Clip Guide for AR-15/M16 firearms are highlighted as well as the full lineup of Shooters Ridge products. For a quick look at their benefits, check out the Products section .
What's new with Shooters Ridge: Perfect for shooters of all disciplines, the What's New area provides the latest gear, promotions and shooting information.
According to Simian, "In planning the Shooters Ridge website redesign, our main goal was to make it more user-friendly. It was important to demonstrate our commitment to hunters and shooters by making improvements in our products and in our online presence. Now viewers can quickly and easily access the information and resources we have available."
Visit www.shootersridge.com to navigate the new site.