Steiner Launches Fan Page On Facebook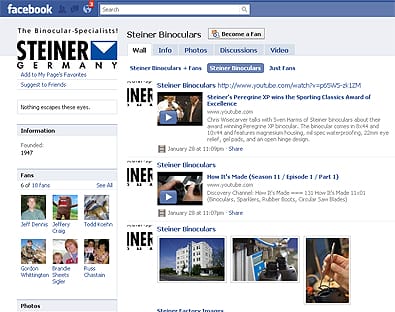 MOORESTOWN, NJ –-(AmmoLand.com)- Steiner Binoculars, the world's leading binocular manufacturer, has created a page on Facebook, the popular social networking site, for its loyal customers and fans.
And to commemorate the launch its new fan page on Facebook, the first 50 people who click the "Become A Fan" link beside the Steiner logo will receive a free Steiner T-shirt.
To locate the page, simply type "Steiner Binoculars" in the Facebook search box, or visit www.facebook.com/pages/Steiner-Binoculars/273780308660 to become a fan.
The page will be frequently updated with news, images, videos and other information about Steiner Binoculars.
Headquartered in Germany, Steiner has been widely acknowledged as a world leader in the manufacturing of quality binoculars since 1947. In addition to the outdoor, hunting and marine markets, Steiner provides products to military and law enforcement worldwide. Allied forces around the world, including the U.S. Army and countless law enforcement agencies, have made Steiner their binocular of choice. Pioneer Research is Steiner's exclusive marketing agent and distributor for North America, including USA, Canada, the Caribbean and Mexico. For more information, write: Pioneer Research, 97 Foster Road, Moorestown, NJ 08057; call toll-free 1-800-257-7742; or visit the company website at www.steiner-binoculars.com.