Army Reservist Claims All-Army Championship
By Michael Molinaro
USAMU PAO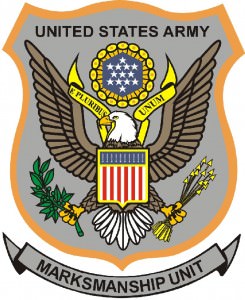 FORT BENNING, Ga. – -(AmmoLand.com)- Close to 300 Soldiers from all elements of the Army descended on Fort Benning Feb. 20-27 to take part in the 2010 All-Army Small Arms Championships, the preeminent marksmanship training and competition event the Army has to offer.
Army Reservist Sgt. 1st Class Russell Moore, 2nd Battalion, Small Arms Readiness Group, Camp Bullis, Texas, withstood strong competition and unpredictable weather to win the 2010 Overall Individual Championship, his second in a row. Moore and his teammates claimed the top team prize after a week full of pistol, rifle, long-range rifle and combined arms matches.
"Everybody should come here. I feel it's a Soldier's duty to come here and test their capability, test their mettle against their peers," said Moore, who works at Fort Sam Houston as a Department of the Army civilian working with combat medic trainees. "Hopefully everybody here takes the spirit of the event for what it truly is, which is a training event, where somebody can come and learn depth and relevance to their trade of being a rifleman first."
Soldiers were given hands-on marksmanship instruction by the hosts of the competition, the Soldiers from the U.S. Army Marksmanship Unit, with the intent of using those lessons learned in instruction and in competition to bring back to their units for dissemination.
"At the USAMU, we use the phrase 'Competition to combat' to describe the phenomena of taking lessons learned through competition to enhance the capability and lethality of the Soldier in combat," said Lt. Col. Daniel Hodne, commander, USAMU. "The All-Army is designed to be the ultimate train-the-trainer event for marksmanship; the implications to raising the Army's overall combat readiness after an event such as this one are enormous."
The overall individual winners of the main categories were awarded Secretary of the Army M1 Garand Trophy Rifles. A 1911 pistol built by the USAMU gunsmiths was awarded to the overall pistol champion. Teams were given plaques to display back at their units headquarters and numerous prizes were awarded to the second and third place awardees in all categories.
Five Reserve Officer Training Corps Cadets earned scholarship money provided by the Civilian Marksmanship Program. Two Soldiers, Sgt. 1st Class Marc Sheehan, 209th Regional Training Institute, Nebraska National Guard, and Staff Sgt. Jason Godel, 2nd Bn., SARG, earned their Distinguished Rifleman's badges, the highest honor one can reach in rifle marksmanship.
A new award was added to the mix this year—the Col. (Ret.) Ralph Puckett Excellence in Marksmanship award. It was given to the Soldier in the novice class who achieved the highest aggregate score of the two Excellence in Competition matches. Sgt. 1st Class Graham Faris, C Co. 2-29 197th Inf. Regt., Ft. Benning, Ga., earned the distinction as being the first Soldier to win the award.
During the closing ceremony, Hodne reminded the Soldiers who competed that while the seeds have been strewn at the All-Army, it is now up to them to incorporate what they learned to take back to their units.
"The lessons learned on the fields of friendly strife are helping our Soldiers accomplish their missions in Afghanistan, Iraq, and elsewhere," Hodne concluded.
The following Soldiers were honored at the awards ceremony that brought the successful event to a close:
Service Pistol Champion—Moore
Service Rifle champion—Army Reservist Staff Sgt. John Buol, Army Reserves Career Division-Region 10
Combined Arms Champion—Sgt. 1st Class Bryan Tubbe, 1st Special Forces Group
Long Range Champion—Sgt. 1st Class SFC Charles Hodson, HHC 40th MP Bn
High Drill Sergeant—Sgt. 1st Class Richard Clark, Regional Training Center-East
High Cadet—Cadet Sean-Paul Adams, North Georgia College and State University
High Novice—Tubbe
High Active Duty Soldier—Tubbe
High Active Duty Soldier (E1-E4) — Spc. Matt Jones, Martin Army Community Hospital, Ft. Benning, Ga.
High Reservist—Moore
High Reservist (E1-E4) — Spc. Michael Martin, D Co, Small Arms Readiness Group, Ft. Douglass, Utah
High National Guardsman—Sgt. Andrew Garza, C CO, 1-184th, California NG
High National Guardsman (E1-E4) — Spc. Evan Messer, 817th Eng Co., N. Dakota NG
About USAMU:
The USAMU's mission is to raise the standard of marksmanship proficiency and combat readiness throughout the Army by sharing knowledge gained from competing and winning in national/ international competitions, research and development and advanced training programs while enhancing the Army's recruiting effort through an active public information and public relations program. For more information on the U.S. Army Marksmanship Unit, contact the Public Affairs Office at (706) 545-5436, [email protected] or www.USAMU.com . The U.S. Practical Shooting Association is a nonprofit membership association affiliated with the International Practical Shooting Confederation, which is comprised of approximately 67 nations.