Blade-Tech Adds U.S. Made, Kydex Reinforced Leather Belts For Concealment And Competition To Its Product Assortment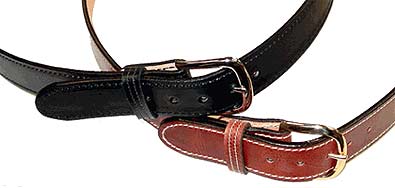 PUYALLUP, WA, –-(AmmoLand.com)- As a part of Blade-Tech's push to expand its product offering, it is proud to introduce the Looper Belts Series of U.S. made, Kydex® reinforced premium cow hide leather belts.
Blade-Tech has made a name for itself by making some of the best thermoformed plastic holsters available on the market today. The same high quality material that is used in many of their holsters gives the Looper Belt Series its structure and vertical rigidity. The belts are made not to flex or breakdown under the weight of a weapon worn for concealment or competition.
The seemingly casual looking design of the belt helps with overall concealment of a carry weapon. The Looper Belt Series of quality belts by Blade-Tech are lightweight and are produced in such a way as to eliminate stretching for the life of the belt.
Initially, Blade-Tech will offer the belts in black and a rich chocolate brown. Both belts will have their exterior leather dyed in such a way as to help prevent surface discoloration that can occur from frequent wearing of a holster.
Blade-Tech's Looper Belt Series of quality reinforced belts will be available for sale on their website: blade-tech.com and will be coming soon to an Authorized Blade-Tech Dealer near you. Current M.S.R.P. Looper Belt Series belts are $44.95 each.