New Hampshire Knife Rights Bill Passed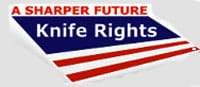 New Hampshire –-(Ammoland.com)- Rep. Jenn Coffey's New Hampshire Knife Rights Bill has been passed by a UNANIMOUS voice vote in the NH Senate.
Knife Rights has worked hard to support Rep. Coffey and her KnifeRights Bill and we are very pleased to have succeeded in enhancing the rights of knife owners in New Hampshire who will now be free to purchase, sell, carry and use switchblades, dirks, daggers and stilettos.
It will take a week or so for the paperwork to be completed and for the bill to be sent to Governor John Lynch who then has five days to sign, veto or simply let it become law automatically. With the unanimous vote in the Senate and support from the NH Chief's of Police Association, we do not expect the Governor to oppose this bill.
Please support our knife rights efforts in NH. We are holding a raffle in New Hampshire to raise funds in support of education about Knife Rights in New Hampshire. ONLY 300 TICKETS WILL BE SOLD and there are some really incredible prizes! Details: http://bit.ly/a4sABO
Doug Ritter
Chairman / Executive Director
Knife Rights, Inc.
Knife Rights Foundation, Inc.
www.KnifeRights.org
Email:
[email protected]
About:
Knife Rights. The first step to building an effective advocacy group is building the membership. Power comes from numbers. Knife Rights offers a range of Charter Memberships and there's one that will suit you perfectly. Invest a modest sum in A Sharper Future. JOIN NOW!