Sportsmen's Caucus Members Return To Washington Determined To Improve Hunting, Fishing and Conservation Opportunities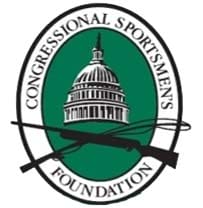 WASHINGTON, DC –-(AmmoLand.com)- The Congressional Sportsmen's Foundation welcomed the sportsman-legislator champions of the Congressional Sportsmen's Caucus back to Washington last night at a reception honoring their commitment to hunting and fishing access in the 111th Congress.
The re-scheduled "Welcome" reception was originally scheduled for February 10 but had to be postponed until Tuesday because of the record snowfall in Washington, DC.
Over twenty members of the United States Congress joined together for this yearly gathering of hunting, fishing, and conservation leaders, policy makers, and industry representatives to celebrate the Congressional Sportsmen's Caucus' successes on behalf of sportsmen in the previous session of Congress and to focus on current legislative issues affecting hunters and anglers.
"For 20 years now, the combination of the Congressional Sportsmen's Caucus and CSF have been at the forefront of pro-sportsmen's legislation," said CSF President Crane. "While the party in power may change, the true bipartisan nature of this Caucus insures that we never take our eye off of the sportsmen's agenda."

Past Caucus Co-Chair, Congressman Don Young, jokingly added, "hunting and fishing aren't partisan pursuits—I've never met a partisan bullet."
"It is really wonderful to gather with all these sportsmen leaders to discuss the ongoing issues that face our way of life," said Caucus Co-Chair Congressman Dan Boren. "As an avid outdoorsman and a member of the Caucus, I recognize the importance of ensuring that the public has the fullest opportunity to enjoy and participate in sporting activities."
Special guests included Tom Strickland, Assistant Secretary for Fish and Wildlife and Parks and Chief of Staff to Interior Secretary Ken Salazar, and NASCAR racing legend and CSF Board Member Richard Childress, as well as many other leaders of the hunting, fishing and conservation community.
"We are extremely proud to work closely with members of the Congressional Sportsmen's Caucus, Jeff and his staff at CSF, and with sportsmen and women at large on issues that are important to us all," said Assistant Secretary Strickland.
The 2010 Welcome Reception was hosted by Laser Shot and sponsored by American Farm Bureau Federation, American Trucking Association, Capitol Hill Consulting Group, ETA, National Beer Wholesalers Association, Natural Resource Results, NRA, Oracle, PAC/WEST, and Wine & Spirits Wholesalers of America, and featured the Laser Shot hunting simulator.