Taurus SLIM Handgun Available in New Calibers
MIAMI, FL –-(Ammoland.com)- Due to overwhelming customer demand Taurus introduces its popular SLIM pistol in two new calibers.
The 708 SLIM .380 ACP offers 7+1 rounds and the 740 SLIM .40 S&W offers 6+1 rounds.
Leave it to Taurus to make the most heralded concealed carry semi-autos in company history even better.
Elegant with slides in blue and stainless, these dynamic semi-autos give nothing away under the lightest T-shirt or polos with its remarkably lean, lightweight design – but still steps up with big firepower, remarkable features and top-end performance.
The SLIM line features a short, crisp single action/double action trigger pull and low-profile fixed sights for easy and comfortable concealment carry.
Additional features include finger indexing Taurus Memory Pad™ along the frame for an automatic finger locator, off hand thumb rest for safe firearm handling and unique takedown levers offer fast field stripping.
The SLIM weighs just 19 ounces, measures a mere 6.24 inches long and is less than an inch thick. Standard features for the SLIM include a visual loaded chamber indicator, new trigger safety, manual safety and the unique Taurus Security System® that allows users to securely lock the gun using an inconspicuous key-lock.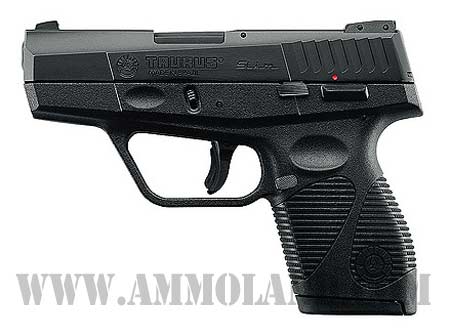 Beginning as a small tool manufacturer in Porto Alegre, Brazil more than sixty years ago, Taurus has become a diversified, international company celebrating resounding success as one of the world's leading small arms manufacturers. In 1941 the company produced its first revolver, and in 1984 changed the industry forever by offering customers an unqualified LIFETIME REPAIR POLICY™, posting record growth every year since. For additional information about Taurus and its complete line of products, visit www.taurususa.com.