Texas Deer Association Makes Tracks Across The State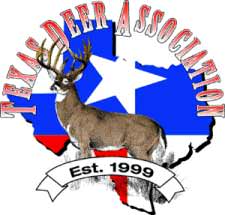 San Antonio,Tx –-(AmmoLand.com)- More than 300 deer enthusiasts, land owners, exhibitors, hunters and students from across the state converged on Grapevine March 5-6 for the Texas Deer Association's (TDA) 2nd Annual Spring Gala and Superior Genetics Whitetail Deer Auction.
The TDA, a non-profit organization founded in 1999, is dedicated to improving deer quality and land management practices to enhance animal health and habitat.
"The Spring Gala and Auction is just one of the association's many family-oriented educational and social events scheduled each year for our members, in an industry that pumps at least $650 million a year into the state's economy," said Karl Kinsel, TDA executive director.

"In addition to making lasting business contacts, members are updated on the latest regulations, hear about research on deer genetics, share information on health, nutrition and gain information on how to enhance native habitat for deer."
Friday evening started off with a great social hour followed by dinner, drinks, games, raffles and an exciting auction of hunting gear, rifles, antler art, and 'TDA Exclusive' hunting packages from some of the finest hunting ranches in Texas. Attendees were surrounded by more than 30 exhibits, including ranches displaying antlers and promoting deer genetics; and nutrition and equipment companies. Always geared to families, the gala also included a special dinner, movie and arts activities for about 25 children, who were treated to a visit by "TD," the TDA's costumed mascot.
New this year was a Whitetail Antler Scoring SCI Class, which drew more than 40 participants for the half-day seminar on measuring and assessing antler production.
"Safari Club International (SCI), based in Tuscon, Arizona, has an internationally recognized scoring system that can be used for every animal with antlers or horns," said Michael Roqueni, SCI measurer coordinator and one of the three class instructors. "To assess a value for a trophy, or to evaluate the growth of antlers on a deer from one year to the next, there must be a standardized method for measuring the mass, width and length of the yearly antler growth."
Ranchers who master these measuring techniques can more effectively market their animals, know when to introduce new genetics into the herd, and can adjust nutrition or environment to encourage greater antler growth.
A Spring Gala Poker Tournament was added this year, with more than $80,000 in whitetail deer genetics prizes awarded. Placing first in the spirited competition was Brady Scarber of Venado Creek Ranch near Center, second was Jeff Dean of Sullivan Whitetails near Sunset, and third place was won by Brent Scarber, also of Venado Creek Ranch.
"TDA events are coordinated by committed volunteers who donate time and effort to ensure these galas, poker tournaments and auctions are entertaining and successful for the ranching and hunting community," said Monty McGrade, TDA Banquet Coordinator and owner of M&M Whitetails of East Texas near Longview.

"A new event with a similar format is planned for Waco on May 21, and anyone who wants to exhibit at or attend this upcoming gala may call me at 903-241-2124."
The Superior Genetics Auction of more than 125 lots on Saturday, March 6, attracted a ballroom full of buyers, sellers, and purchasers bidding through an internet hookup. High Roller Whitetails, near Center, captured the highest bid — $65,000–for half-interest in a yearling buck produced from a outstanding genetic line renowned for antler growth. To view Auction results click here.
"The auctions are 'video auctions,' as it isn't possible to haul them to a sale site," explained Marta Ramos, TDA operations director. "Whitetail ranchers follow breeding lines closely, and with antler scoring information, the bidders know the value of the animals and genetics offered. The auctions always draw large crowds, and bidders will compete for outstanding deer."
TDA hosts many events through the year, and in February, the association raised $8,000 for the scholarship fund of the San Antonio Livestock Exposition during the Whitetail Deer Auction at the San Antonio Stock Show & Rodeo. Since 2005, the TDA has donated more than $60,000 to the exposition scholarship fund and was the first deer association to hold a sale in conjunction with a livestock show. In addition to sales and deer management training opportunities, on-site ranch seminars are scheduled in upcoming months.
The next event on the TDA calendar will be the 4th Annual Hicks Whitetail Ranch Production Sale March 27, 2010, at the Embassy Suites Conference Center in San Marcos, Texas.
In August, the Texas Deer Association will hold its 12th Annual Convention and fundraiser at the Westin La Cantera Resort in San Antonio.
"Texas is the top state for whitetail deer, and Texas deer breeders are extremely proud of the genetics, care and nutrition they provide their animals," said Kinsel. "Always enthusiastic, deer breeders are ready to share their knowledge about raising these beautiful animals. A slate of seminars and events are scheduled across the state this year, and in August, the TDA's biggest event–the convention in San Antonio–will draw more than 1,500 participants for three days of lecturers, exhibits and activities for the entire family."
More information about the Texas Deer Association or events you can attend visit www.texasdeerassociation.com.
Headquartered in San Antonio, the TDA is the only non-profit organization solely committed to improving the quality of Texas deer herds through improved habitat practices, modern harvest strategies and use of superior deer to enhance the deer herds. As a part of its public education efforts, the TDA publishes Tracks, a full-color bi-monthly magazine that updates members on legislative news, deer genetics and game management issues.