Vermont Families Afield Bill Clears House of Representatives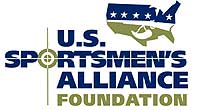 Vermont –-(AmmoLand.com)- On March 17, the Vermont House of Representatives passed Apprentice Hunting legislation aimed at reducing barriers to new hunters entering the field. House Bill 243 now moves to the Senate for further consideration.
It is part of the national Families Afield effort by the U.S. Sportsmen's Alliance (USSA), the National Shooting Sports Foundation (NSSF) and the National Wild Turkey Federation (NWTF).
The measure, sponsored by Rep. Steve Adams (R- Hartland), will allow newcomers to try hunting under the close supervision of an experienced mentor prior to the completion of hunter education.
"We're proud that Representative Adams and the House of Representatives have taken the first step to ensure the future of Vermont's hunting heritage," said Evan Heusinkveld, U.S. Sportsmen's Alliance (USSA) director of state services. "Vermont sportsmen should continue voicing their support for this bill by calling their state senators."
The Families Afield initiative was established by the USSA, NSSF and NWTF in 2004 in order to bring a new generation of sportsmen to the field. Since the program's inception, Families Afield legislation has been passed in 29 states with over 300,000 apprentice licenses sold to date. Other groups giving key support to the Vermont effort include the National Rifle Association, Vermont Traditions Coalition, and Ducks Unlimited.
Take Action!
Vermont sportsmen are encouraged to contact their state senators and urge them to support HB 243. Tell them that this bill is an important step to protect conservation efforts by reducing barriers for the next generation of Vermont hunters to take to the field. To find your state senator's contact information, visit the USSA Legislative Action Center at www.ussportsmen.org/lac.
About:
The U.S. Sportsmen's Alliance is a national association of sportsmen and sportsmen's organizations that protects the rights of hunters, anglers and trappers in the courts, legislatures, at the ballot, in Congress and through public education programs. For more information about the U.S. Sportsmen's Alliance and its work, call (614) 888-4868 or visit its website, www.ussportsmen.org.