Bowling Green is Latest Bluegrass Backer for Bobwhites
Kentucky joins three other states with 10 or more Quail Forever chapters.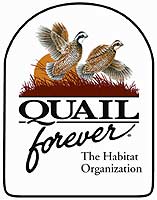 Bowling Green, Ky. – -(AmmoLand.com)- Hunters and conservationists in and around Bowling Green have formed the Bluegrass State's newest Quail Forever chapter. Known as the Southern Kentucky Quail Forever chapter, the Barren County group is the 10th Quail Forever chapter dedicated to quail conservation in Kentucky.
Kentucky also becomes the fourth state with 10 or more Quail Forever chapters, following Illinois and Missouri (18 each) and Kansas (11). As a Quail Forever chapter, the Southern Kentucky Quail Forever group will utilize Quail Forever's local approach to wildlife habitat conservation.
Unlike other national conservation organizations, Quail Forever gives local Quail Forever chapters the ability to decide how 100 percent of their fundraised dollars are spent. This local control gives chapters and members the ability to make things happen for wildlife in their communities, while belonging to a national organization that gives wildlife and conservation a voice in Washington, D.C.
"We currently have around 40 members in the beginning stages of our chapter and hope to have about 100 by midsummer," said Brain Melloan, president of Southern Kentucky Quail Forever.

"Residents have embraced our new chapter with much enthusiasm, and are looking forward to being a part of a very active group. We have high expectations for this chapter and a tremendous amount of drive, two crucial aspects for accomplishing our mission of wildlife habitat conservation."
In their effort to restore habitat and bobwhite quail numbers to the state, the Southern Kentucky Quail Forever chapter also recognizes the importance of youth membership for achieving such unique goals.
"We plan on growing our youth base exponentially and doing things to keep them interested in our chapter," added Melloan. "Youth membership is important to the future of conservation and we would like to do our part for the state of Kentucky by including youth members in our chapter."
Southern Kentucky Quail Forever
Southern Kentucky Quail Forever chapter leaders include Mike Steenbergen, treasurer, from Scottsville; Donald Depp, youth/education chair, from Glasgow; John Sawyers, habitat chair, also from Scottsville and Joe McDonald, banquet chair, from Horse Cave.
The chapter meets the first Monday of every month at Split Tree Bar-B-Q just outside of Bowling Green. The public and media are invited to attend.
For more information about the Southern Kentucky chapter of Quail Forever, contact chapter president Brian Melloan at (270) 282-5102 or chapter treasurer Mike Steenbergen at (270) 535-9829.
For more information on Quail Forever in Kentucky, contact Tim Caughran, Quail Forever
Regional Wildlife Biologist, at (618) 467-2586 and/or [email protected]
Quail Forever is the quail division of Pheasants Forever. Quail Forever is dedicated to the protection and enhancement of quail, pheasant and other upland wildlife through habitat improvement, public awareness, education and advocacy for sound land management policy. For additional information please visit www.QuailForever.org