California Delays Plans to Expand Bear Hunt
By Justin McDaniel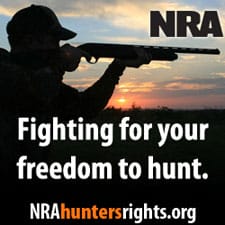 Sacramento, CA –-(AmmoLand.com)- The California Fish and Game Commission opted to delay plans to expand the state's black bear hunting season after the Department of Fish and Game (DFG) submitted a letter to the commission on Tuesday asking that the proposal be withdrawn.
The department had originally requested that the season be expanded in order to better manage the state's growing black bear population, but it received more than 10,000 comments about the amended regulations and did not have time to address them all in writing, as is required by state law.
"For this reason, coupled with the importance of moving forward with the balance of the mammal hunting regulation package generally, the department recommends that the commission make no changes at this time to the existing regulations governing bear hunting in California," said John McCamman, DFG director, in a letter to commission Executive Director John Carlson.
The commission responded by voting 5-0 to give the department more time to manage the concerns expressed by anti-hunting groups, county officials and state lawmakers. The commission directed department staff to schedule an agenda item to begin a new package for bear hunting regulations at its May 5 meeting.
State wildlife officials had wanted to allow black bear hunting in San Luis Obispo County for the first time and expand bear hunting in Lassen and Modoc counties. According to DFG research, San Luis Obispo's bear population stands at 1,067 and is biologically large enough sustain a hunt. Officials also wanted to remove the current season quota of 1,700 bears and allow the hunt to run until its official end in late December, as well as allow hunters to use dogs with GPS devices and tip switches—which indicate when a dog has treed a bear.
"We recommended the dropping of the 1,700 cap limit on bear harvest because bear populations have expanded, and we normally reach the 1,700 limit late in the season, just prior to the end date," said Harry Morse, DFG public information officer.
Overall, California's bear population has increased from approximately 10,000 bears in the 1980s to 38,000 bears today. Hunters and the dollars they have poured into wildlife management and habitat are largely responsible for that jump. For comparison, California's human population has grown from about 24 million in 1981 to almost 37 million in 2009. More bears and more people have resulted in shrinking bear habitat and increased conflicts.
The fact that California has a healthy, growing bear population is a major reason why the 1,700-bear quota is no longer necessary. State biologists have said that removing the quota would have a negligible effect on the overall population. Cost is another factor.
According to the California Hunting Digest, when the quota is reached, "the DFG is required to send a notification letter to each bear tag holder. This has occurred only twice in the past six years. The DFG has proposed to the Fish and Game Commission that the in-season closure quota be eliminated because it provides no significant benefit to the bear population. As a result, the cost of notifying all hunters by mail is an unnecessary expense."
In spite of the scientific justification for expanded bear hunting, a coalition of anti-hunting groups, including the Humane Society of the United States (HSUS), has actively opposed any expansion of the hunt—a factor the commissioners alarmingly took into consideration at their meeting Wednesday.
"I have some problems with suggesting we expand the bear hunt at a time when a lot of constituency groups are questioning bear hunting at all," Fish and Game Commissioner Richard Rogers told the Los Angeles Times after the vote.

"I don't think there's any question, if we rile up the anti-bear hunting community, we're one initiative away from a ban on all carnivores like mountain lions and bears," added Commissioner Michael Sutton.
Anti-hunting groups have used misinformation to their advantage in their campaign to thwart expanded bear hunting, such as distorting what the changes will mean to California's actual bear kill.
"The proposals could increase the number of bears killed each year by up to 50 percent, and allow the use of unsportsmanlike GPS devices and 'tip switches' to make it easier for hound hunters to shoot helpless, treed bears at point-blank range," said Jennifer Fearing, California senior state director for HSUS.
In truth, DFG biologists have said any regulatory changes would result in an annual harvest of 2,150 bears, roughly a 20 percent increase over the current quota. The "unsportsmanlike" devices that HSUS demonizes do not make bear hunting easier or any less humane, but help hunters to keep track of their dogs, especially in rough terrain.
San Luis Obispo County supervisors passed a resolution of their own in March opposing bear hunting in their county, and 17 California legislators urged the commission to reject the amended bear hunting regulations on the grounds that they lacked "reasonable scientific justification."
While it is disturbing enough that a game commissioner is worried about the opinions of anti-hunting groups that have an interest in seeing all bear hunting end, ignoring science in favor of emotion is no way to manage wildlife. It is clear that DFG's proposal to expand bear hunting was backed by sufficient biological justification. The only reason wildlife officials requested that the proposal be withdrawn is because they were deluged with public comments that they could not address before a vote was held on the issue—not because it lacked scientific merit.
Thus, the scientific recommendation of state biologists should carry the greatest weight as the commission considers what direction bear management will take in the future.
It is possible that the commission could vote on this issue again as soon as this summer. Science should guide that process, not emotional, uninformed rhetoric from laypersons, lawmakers and, especially, anti-hunting groups with an agenda to end all hunting.
For additional information:
California DFG Corrects HSUS' Misstatements
About:
For the most up-to-date information about your hunting rights there's just one source: www.NRAhuntersrights.org.