Second Amendment March Money Bomb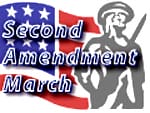 Washington, DC –-(AmmoLand.com)- The current administration has passed Obamacare, an experiment in government-run healthcare.
Clearly they have chosen to ignore the Constitution and the will of the people. What next? Will they go after the Second Amendment?
What would it mean to you if they did? Loss of freedom? Liberty? Your guns? Are you willing to sit around waiting to find out?
Now is not the time to back down. We may have lost a battle but will win the war to protect the Constitution and our God given rights. Now is the time to stand up and be heard. Make your voice known by supporting the Second Amendment March. Many of you will be attending your state or the national March in Washington D.C., these historical events will be a reminder to all elected officials we will not give up our right to keep and bear arms.
On Wednesday, April 7, we will be conducting a "money bomb" campaign to raise the last of the funds we need. On that day, we'll be asking you to go to www.secondamendmentmarch.com and make a secure online contribution of $20 or more to support our Second Amendment March and help ensure we have the resources to produce a rally that will go down in history. In addition, we'll need you to tell your friends, family members, gun club members, hunting buddies, and everyone else you know so that they, too, have the opportunity to support the March and stand up for their rights.
Our goal is to raise $50,000 in one day to cover the final financial obligations of the event. You can make a difference… whether fifty $1,000 donors or fifty thousand $1 donors… every dollar counts. All funds donated will be used solely for the purpose of this March and protecting the Second Amendment.
You don't have to be a gun owner, hunter, law enforcement or collector to donate. You just need to have the desire to protect your freedom, your family and your country. We need your support. On April 7, will you be there for us?
Sincerely, Skip Coryell
Founder – Second Amendment March
About:
The mission of the Second Amendment March is to galvanize the courage and resolve of Americans; to petition our elected officials against establishing anti-gun legislation; and to remind America that the Second Amendment is necessary to maintain our right to self defense. Visit: www.secondamendmentmarch.com