Turkey Hunters Advised To Check Road Conditions Before Going Afield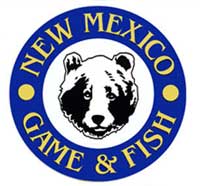 SANTA FE, NM –-(AmmoLand.com)- Spring turkey hunters may encounter closed or impassable roads early in this year's April 15-May 10 season, courtesy of a generous snowpack on mountain ranges statewide. Hunters are advised to call the appropriate U.S. Forest Service district office before going afield to avoid getting blocked by snowdrifts, mud or locked gates.
Forest Service officials in various ranger districts around the state have closed forest roads to protect the resources and prevent travelers from getting stuck.
"We will have some roads still gated either because they are impassable or to protect the area from resource damage due to travel on muddy roads," said Steve Romero, Pecos-Las Vegas District Ranger. He said back-country travel is problematic throughout the forest, which encompasses the south Sangre de Cristo, Jemez and San Pedro mountains east, west and northwest of Santa Fe.
Farther north, areas of the Carson National Forest are experiencing similar closures to vehicle traffic because of heavy snowfall and mud. Gates to Forest Roads 156, 710, 697 and 155 off N.M. 76 south of Chamisal to Truchas were closed last week. Many other roads that are closed for the winter are expected to open as normal on May 1. Access to the Valle Vidal is open from the east side.
In the Cibola National Forest, some roads are being reopened as recent warm weather dries the forest. Although some roads remain closed to prevent damage to roads and resources, areas that have reopened in time for turkey hunting include Bonito Canyon (Forest Road 447, areas below San Mateo Mesa (Forrest Road 192), and Limekiln Canyon (Forest Road 448). N.M. 400 and county roads 49 and 50 remain open.
In southern New Mexico, the Smokey Bear District of the Lincoln National Forest has closed Forest Service Road 107D because of mud. Nogal and Tanbark canyons also remain closed until further notice, and forest travelers are advised to use extreme caution on roads that are open.
Few roads have been closed in the Gila National Forest, but hunters and other travelers are encouraged to call a ranger district office in advance of their trip. Some roads in the higher elevations, including Bursum Road and Forest Road 59, remain closed because of the heavy snow.
As always, hunters should carry appropriate gear to deal with all kinds of road and weather conditions. At a minimum, outfit your vehicle with tire chains, a tow strap, jack and shovel in addition to the usual personal survival gear.
Here are contact numbers for district ranger stations of New Mexico's five national forests:
Carson National Forest
Canjilon Ranger District: (575) 684-2489; El Rito Ranger District: (575) 581-4554; Jicarilla Ranger District: (505) 632-2956; Camino Real Ranger District: (575) 587-2255; Tres Piedras Ranger District: (575) 758-8678; Questa Ranger District: (575) 586-0520.
Santa Fe National Forest
Espanola Ranger District: (505) 753-7331; Pecos-Las Vegas Ranger District: (505) 425-3535 or (505) 757-6121; Jemez Ranger District: (575) 829-3535; Cuba Ranger District: (575) 289-3264; Coyote Ranger District: (575) 638-5526.
Cibola National Forest
Mount Taylor Ranger District: (505) 287-8833; Magdalena Ranger District: (575) 854-2281; Mountainair Ranger District: (505) 847-2990; Sandia Ranger District: (505) 281-3304.
Lincoln National Forest
Smokey Bear Ranger District: (575) 257-4095; Sacramento Ranger District: (575) 682-2551; Guadalupe Ranger District: (575) 885-4181.
Gila National Forest
Black Range Ranger District: (575) 894-6677; Glenwood Ranger District: (575) 539-2481; Quemado Ranger District: (575) 773-4678; Reserve Ranger District: (575) 533-6232; Silver City Ranger District: (575) 388-8201; Wilderness Ranger District: (575) 536-2250.