First Annual TBA Buffalo Banquet Celebrates 'Texas Bison Week'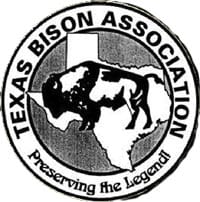 AUSTIN, Texas –-(AmmoLand.com)- Preserving and promoting American Buffalo, the Texas Bison Association (TBA) is pleased to announce that the Texas Legislature has officially designated the first week of May as 'Texas Bison Week.' During the commemorative week, the TBA will host its Spring Meeting and 'Buffalo Banquet' on May 8, 2010 in conjunction with Buffalo Boogie 5K Fun Run sponsored by the Friends of the Fort Worth Nature Center & Refuge in Fort Worth.
After the TBA's membership meeting, the First Annual TBA Buffalo Banquet will feature a fund-raising auction with a wide array of trips, art, custom knives, furniture, jewelry, trips, and other Texas- and buffalo-related products. The banquet will begin at 5:30 p.m. at the La Quinta – Lake Worth and all bison enthusiasts are welcome to attend. Cost is $50 and includes TBA 'Friend of the Herd' membership, bison steak dinner and chances to win some great auction and raffle items. A portion of the proceeds from the banquet will also be donated to the American Heart Association.
"The Texas legislature's official recognition of Texas Bison Week acknowledges the resurgence of bison and the growing popularity of bison as a heart-healthy red meat alternative," says Tim Frasier, president of the Texas Bison Association. "Buffalo ranching and bison products are becoming increasingly popular, and our all-new Buffalo Banquet is bringing together bison enthusiasts for a fun evening commemorating the rich, unique history and tradition of our American buffalo."
Bison meat is very lean — containing less calories and cholesterol than either beef or chicken — and is a great alternative for people who want to improve their diet without giving up red meat. In addition, bison contributes about 69 percent more iron to a diet than beef and contains higher levels of vitamins and minerals, and is more non-allergenic and digestible than most other meats.
The Texas Bison Association is a nonprofit organization founded in 1994 by bison owners and individuals concerned with the preservation and promotion of the North American Plains Bison. Today, the TBA provides assistance in raising and producing bison and promotes the nutritional health aspects of the North American Bison to consumers. The TBA hosts two major events during the year — the Texas Bison Exposition, which features exhibitors from the bison industry, informative seminars on raising bison, the World Championship Buffalo Burger Challenge, and more; and its Spring Banquet & Fund-Raising Auction, an event which brings together bison industry professionals and enthusiasts during "Texas Bison Week.'
For membership or sponsorship information, call 512.331.8618 or visit www.TexasBison.org.
Headquartered in Austin, Texas, the Texas Bison Association is a non-profit organization of producers, ranchers and bison enthusiasts. For more information on Texas bison, bison ranching or membership in the Texas Bison Association, call 512.331.8618 or visit www.TexasBison.org.