Charity Navigator Gives U.S. Sportsmen's Alliance Foundation Top Rating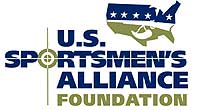 Columbus, OH – -(AmmoLand.com)- The U.S. Sportsmen's Alliance Foundation (USSAF) has received a 4-star rating from America's number one charity evaluator, Charity Navigator.
This is the top rating offered by Charity Navigator and indicates that the USSAF conducts itself in a fiscally responsible way while outperforming many other charities.
"We are proud to announce U.S. Sportsmen's Alliance Foundation has earned our 4-star rating for its ability to efficiently manage and grow its finances," said Ken Berger, president and CEO of Charity Navigator.

"This 'exceptional' designation from Charity Navigator differentiates U.S. Sportsmen's Alliance Foundation from its peers and demonstrates to the public it is worthy of their trust."
Click here to read the full letter from Charity Navigator to the USSAF.
"In one of the toughest economic environments in a generation, donors are looking more than ever to be certain that the charities they support uphold the highest standards of fiscal responsibility," said Bud Pidgeon, USSAF president. "The USSAF is honored to receive this endorsement from Charity Navigator."
Click here for the 4-star Charity Navigator review of USSAF.
Charity Navigator is considered America's premier independent evaluator of charities and evaluates over 5,000 of the nation's top non-profit organizations annually.
"We hope that as donors research charities, they will recognize that the USSAF is in an elite class of non-profits that best utilizes contributors' hard-earned money to protect and promote the American outdoor tradition for future generations," Pidgeon concludes.
The U.S. Sportsmen's Alliance Foundation protects and defends America's wildlife conservation programs and the pursuits – hunting, fishing and trapping – that generate the money to pay for them. The U.S. Sportsmen's Alliance Foundation is responsible for public education, legal defense and research. Its mission is accomplished through several distinct programs coordinated to provide the most complete defense capability possible. For more information about the U.S. Sportsmen's Alliance Foundation and its work, call (614) 888-4868 or visit its website, www.ussafoundation.org.