Federal Bureaucracy Hamstrings Hunting Media
By Justin McDaniel, Assistant Editor
www.NRAhuntersrights.org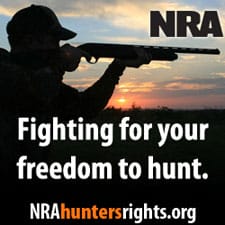 Washington, DC – -(Ammoland.com)- The United States Senate Subcommittee on Public Lands and Forests held a hearing on April 28 concerning a bill that would simplify the permit and fee structure for filming and photographing federal lands for commercial use.
Federal law requires that photographers and videographers, such as the ones who film hunting television shows and shoot photographs for hunting magazines, acquire expensive permits and adhere to cumbersome rules to film on federal lands.
Senate Bill 1241, sponsored by Sen. Jim Inhofe (R-Okla.) and co-sponsored by Sens. Mike Crapo (R-Idaho) and Jon Tester (D-Mont.), would eliminate the red tape and greatly reduce the costs associated with obtaining these permits for small film crews comprised of five people or less.
Last year, Rep. Dan Boren (D-Okla.), an NRA Board Member, introduced similar legislation (House Resolution 2031) in the U.S. House of Representatives.
Currently, permits can cost hundreds of dollars per day, even for small crews, and a proposal has been floated to make the fees even higher. That's not a show stopper—literally—for mega commercial productions like Ken Burns' recent series on the national parks, but for small-scale production companies that film hunting and fishing shows, exorbitant fees can make them think twice about visiting federal lands.
Imagine having to apply for a filming permit two weeks or more in advance, paying a $100 non-refundable application fee, plus an minimum of $100 for each day of filming, and being required to carry $1 million worth of liability insurance that explicitly indemnifies the National Park Service from liability. That's what it takes for Rocky Mountain Television Network, based in Gunnison, Colo., just to film at the National Park Service's Blue Mesa Reservoir, which is the largest lake in Colorado.
"The problem is the National Park Service really digs their feet in about having to have a permit," said Andy Lightbody, owner of Rocky Mountain Television Network, which produces syndicated outdoor television programs, including ones that focus on hunting and fishing.

"All of us here in the Gunnison area think that, number one, it's counter productive. If you don't encourage people to come out and say, 'Gee, I enjoyed your story,' or 'Wow, I watched your video,' how are they going to know what Blue Mesa has to offer?"
For small-scale projects where profit margins are already tight, excessive fees can become a disincentive for filming on federal lands and educating the public about the recreational opportunities they have to offer. Lightbody said 85 percent of the land in the Gunnison area is owned by the National Park Service, U.S. Forest Service or Bureau of Land Management. Many of the stories of interest to hunters and anglers in his area take place on federal lands, so each time he wants to report on a story it costs his company money in permit fees.
"When you're a local television station, and you've got all of these different seasons and things that are going on, and you want to tell people that the ice is off (the reservoir), that's a one-day story," he said. "You've got to plan in advance so you know exactly when the ice-off is going to happen so you can apply for your permit. If you want to tell people that the mackinaw are starting to bite, that's another day and another fee."
That's where Inhofe and Boren's bills come into play. S. 1241 and H.R. 2031 would still require permits to film on federal lands, but they address the inequities found in the current law, eliminate red tape, simplify the process, and set a greatly reduced annual fee for small-scale productions. Specifically, these bills would require that small film crews of five people or less pay a $200 annual fee for a permit to film on all federal lands for a 12-month period. A single permit and a single $200 fee would give these crews access to all public areas on all federal lands and waterways for a full year, and the bills would prohibit any additional fees or restrictions from being assessed during that time.
"If you're going out on that lake [to film] either hunting or fishing—and hunting and fishing are both allowed on the Blue Mesa—you've got to first buy a Colorado state boat permit," Lightbody said.

"Number two, you have to buy a Blue Mesa boat permit. Then you have to buy the fishing and hunting licenses. On top of that, they want more fees just to grant you access. They can also tack on what they call a location fee, which means that if they think you're going to be disruptive to other users, they can charge you to have a ranger with you."
In one extreme example of the fees that can be incurred by a small production company, Lightbody said he spoke with one producer who paid $2,500 to film a five-day hunt on federal land in Wyoming. In addition, if a company or individual is caught filming for commercial use without a permit, the fines can be in the neighborhood of $300 to $500, Lightbody said.
"They look for the big cameras, and of course they know us," said Lightbody. "We're marked men." Lightbody said he was even stopped by rangers for filming for personal use—not for broadcast—in Black Canyon National Park last summer.
His videographer was detained for a short period and, even after he explained that he didn't need a video permit to shoot for personal use, the rangers reported the incident to the head of law enforcement for the area, who opened an investigation into the incident. The matter was later dropped.
The sticking point for many journalists is the patchwork of rules and fees that change from one federal property to another. The administration of each property is free to make its own rules, and individual rangers are left to interpret the law—thus Lightbody's encounter with the overzealous rangers in Black Canyon. Sadly, it's a situation that's not unique.
"These location-specific fees are killing everybody," Lightbody said.

"What if I wanted to go to another location in the Park System? It's the same thing. Every time I go these people are saying you've got to have the $1 million policy, you've got to let them know two weeks in advance, you've got to pay this, you've got to pay that. They're going to put us out of business."
The NRA sent a letter to Sen. Inhofe on April 23 expressing support for S. 1241, and on April 26 NRA joined 32 other hunting and conservation organizations in sending a letter to the Senate Subcommittee on Public Lands and Forests to communicate the outdoor community's support for reform. Both letters can be read below in their entirety.
NRA Letter to Sen. Inhofe
Joint Letter to Senate Subcommittee on Public Lands and Forests
For the most up-to-date information about your hunting rights there's just one source: www.NRAhuntersrights.org.