US Manufactured Gun Stock Sets INSTOCK at Ironwood Designs
San Jose, CA –-(AmmoLand.com)- Ironwood Designs is happy to announce our new "in Stock" products pages. Over the past couple of months, we have been putting together tons of pre-boxed, on the shelf, ready to ship stock sets. Included are some of our most popular sets, and numerous limited offer combo sets. Our primary goal is to reduce delivery times, and to keep more of our best seller sets, in stock, on a regular basis.
Why we are doing this? Our business has been increasing steadily for the past 3 years, as well as our product offerings. The results are that our delivery times and production flow have slowed down. We are finally creating a break between our standard, and custom orders, to better manage their production flow. More parts in stock, and defined delivery times is the idea.
Ironwood Designs is not a huge industrial entity, nor is it a war time sized stock production facility. We are a small custom production house, that produces a huge amount of many different stock variants. Our reproduction stocks cover over 12 different countries of origin, spanning over 30 years of various military rifle variants and models.
In addition, we offer several different wood options, hybrid and interchangeable parts, as well as several custom options, for many of those parts. It is a monumental task at times, but, we embrace it, because we love what we do. In fact, stock production is all that we do. We make everything in house, from scratch. no imports, no re-selling surplus. Everything is done here in the USA, to the closest specs possible.
Our new "In Stock" section will enhance your stock selection process, and better inform you to make the choice that suits you best. We have added tons of new Tech Page features, and will be adding more in the following weeks. Because our e-mail and phone inquiries have been overwhelming, we have been updating and improving our site, to answer all of the questions we hear on a daily basis. We will never be a faceless organization, but, we need our site to do some of the heavy lifting, so we can stay in the shop, turning out new product. We humbly request that you let the site guide you through your purchase experience, as it is much better equipped to do so at this time.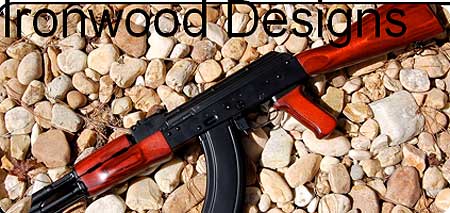 Matt
Iron Wood Designs
About:
For over 15 years, Ironwood Designs has driven the military gun stock market, specializing in custom production stock parts for some of the world's most prolific and significant military small arms. We offer the most comprehensive line of modern military stock parts for the AK-47, FN FAL & AR15. Our commitment continues with the quest to increase the availability of hard to find, out of production stock parts. Our customers range from the individual shooter collector, to the largest military small arms importers & manufacturers in the USA. Visit: www.ironwooddesigns.com