USSA and Others Seek Great Lakes Wolf Delisting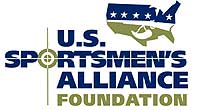 Columbus, OH – -(Ammoland.com)- Today, the U.S. Sportsmen's Alliance (USSA) and other national and state based groups filed a formal petition with the U.S. Fish and Wildlife Service (FWS) to remove the Western Great Lakes wolves from the Endangered Species List.
The petition incorporates information regarding the wolves' population status from similar petitions filed by the Departments of Natural Resources in Minnesota and Wisconsin in March and April, 2010. This information includes population numbers of 3,000 wolves now present in Minnesota, 460-500 in Wisconsin and 430 in Michigan's Upper Peninsula. This is a significant increase in wolf population from the 1970s, when they were placed under Endangered Species Act (ESA) protection.
Once removed from ESA list, the wolves would still be protected under the management plans of each state.
"The numbers of wolves throughout the region have clearly recovered and it is time for the states to regain their rightful management authority," said Rob Sexton, USSA vice president for government affairs.

"Though it's already been a long road, the USSA and our partners remain committed to ensuring that this delisting happens."
Joining the USSA in filing the petition are the Wisconsin Bear Hunters Association, Dairyland Committee of Safari Club International Chapters of Wisconsin, National Wild Turkey Federation of Wisconsin, Whitetails of Wisconsin and Wisconsin Firearms Owners, Ranges, Clubs and Educators Inc.
Two previous efforts by FWS to delist the Western Great Lakes gray wolves were reversed as a result of lawsuits filed by anti-hunting groups and some procedural mistakes made by the FWS in the waning days of the Bush Administration.
The U.S. Sportsmen's Alliance is a national association of sportsmen and sportsmen's organizations that protects the rights of hunters, anglers and trappers in the courts, legislatures, at the ballot, in Congress and through public education programs. Visit www.ussportsmen.org.